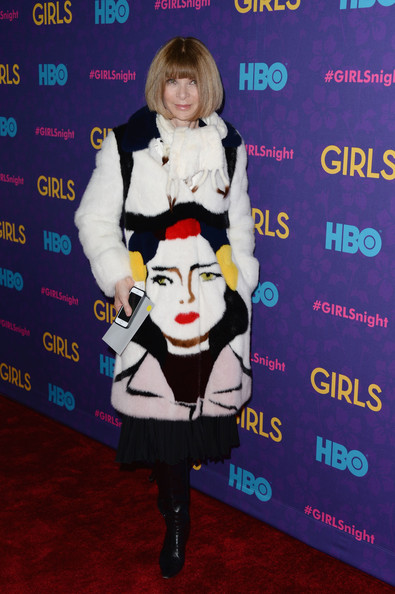 We're looking over our shoulders as we write this, in case, y'know, Anna's style army is hunting us down. That's Anna Wintour, in case you were wondering. Spotted in what may become a Worst Dressed Of The Year contender pretty soon, Madame Wintour took to the red carpet for the season three premiere of 'Girls' earlier this week, in a Prada Spring 2014 fur coat.
But this wasn't any old coat. No. Painted boldly with a woman's portrait, the snug cover-up was perfect for battling the New York City deep freeze, but Anna's overall styling left us in a *facepalm* pose for some time.
Paired with an even longer skirt (what?!) and knee-high leather boots (no Manolos? Where are the Manolos? Bring back the Manolos!), Anna's styling went the complete opposite way to the runway-ready, easier on the eye look.
Sporting her signature bob and stern semi-smile, the American Vogue E-I-C decided to add some extra oomph to the "eughh" factor by adding a peculiar looking scarf to the mix. Yes, we get that you wanted to chill-block, Anna, but this outfit just screams "NO!"
Pull up the skirt hem and ditch the scarf, and you might have a winning look on your hands, but this time, you're so not in vogue, Anna.
[Image]