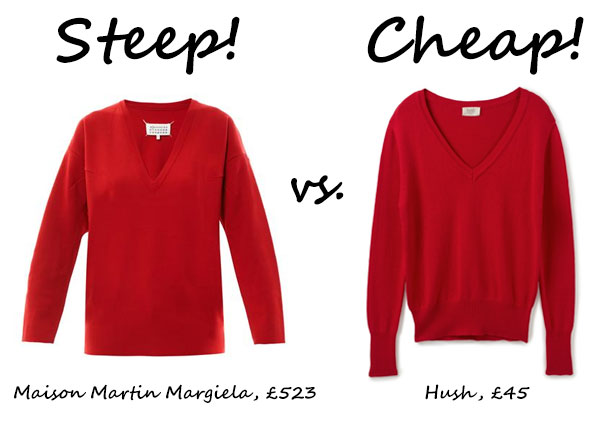 Nothing beats the toasty promise of a new, super-soft knit, and one that delivers a dash of much needed colour is even better. Enter this week's Steep vs. Cheap pick: the bright, slouchy jumper which we cannot wait to add to our repertoire of winter-warmer essentials!
In at the steep end, we've tracked down the v-neck wool sweater by Maison Martin Margiela (£523). Bringing a mood-transforming jolt of rich scarlet colour, the oversize jumper is the perfect off-duty staple. Pair with skinny jeans, trusty boots and a chill-blocking coat, and you've got yourself the ideal winter outfit in one, colour-saturated swipe.
But, if £523 is a bit too deep for the ole' pockets, then head over to go-to e-store, Hush, and pick up a relaxed fit jumper for just £45 – a snip of the price! Delivering an equally eye-opening dose of shocking red, wear this knit with your favourite winter pieces for a look that's anything but boring.
Will you splurge or save?
Steep: Maison Martin Margiela v-neck sweater, £523, available at Matches Fashion.
Cheap: Sloppy jumper, £45, available at Hush.