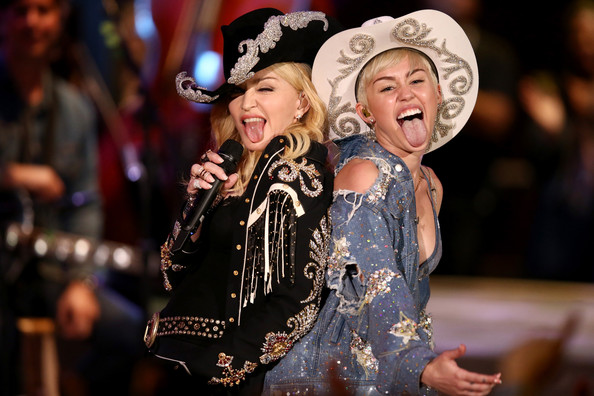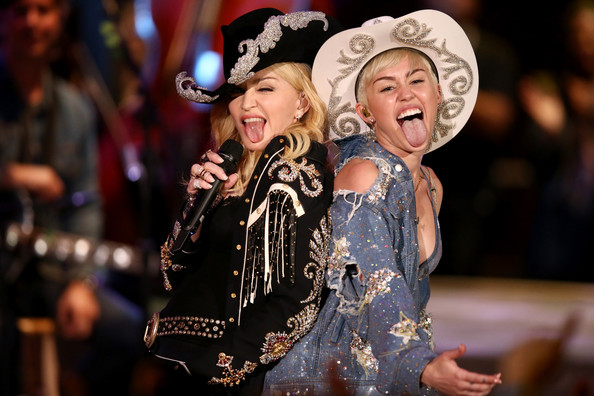 Apart from looking freakishly similar – despite the 34-year age gap – the cowgirl outfit-clad MTV Unplugged collaboration that involved a Madonna-Miley gyration session before a bunch of fans hardly brought the shock factor. The surprisingly soft-toned live performance, "gentle" grinding and a wobbly-vocal mash-up of Madonna's "Don't Tell Me" and Cyrus' smash hit "We Can't Stop" seemed to capture the on-looking audience, but we sensed something a little more sinister at play.
Not one to shy away from making headlines – who can forget that Madge-Brit smooch at the 2003 VMAs? – Madonna's recently been covering column inches with her un-parent like behaviour. From using inappropriate captions on Instagram to allowing her 13-year-old son to pose with a bottle of alcohol, she courts controversy with ease. And, then there's Miley; the 21-year-old world-famous for her brazen display of provocative behaviour, very little clothing and a tongue that refuses to be put to bed (inside her mouth).
So, what do these two ladies acting in a sexualised manner on stage mean for their legion of fans, most of whom are either young girls or women? Well, given Madonna's old enough to be her mother, we feel as though Miley's performance was overshadowed by the sheer control (or lack thereof) Madonna displayed when grinding against the "Adore You" singer. After all, she's a mother, in the public eye, and with a greater onus on her to portray herself as a positive role model.
Yet here she is egging on Miley's ostentatious on-screen personality, by joining in with a cringe-inducing wind 'n' grind session and, to an extent, justifying the over sexualisation of girls Miley is often associated with. Although there's nothing outwardly wrong with what Madonna was doing upon that stage; it was her partner in grind (sorry, we had to) who pushed it into inappropriate territory.
What are your thoughts? Bang(erz) out of order, or just a bit of Madge-style fun? Tell us below!
[Image]