Last Updated on 30th June 2016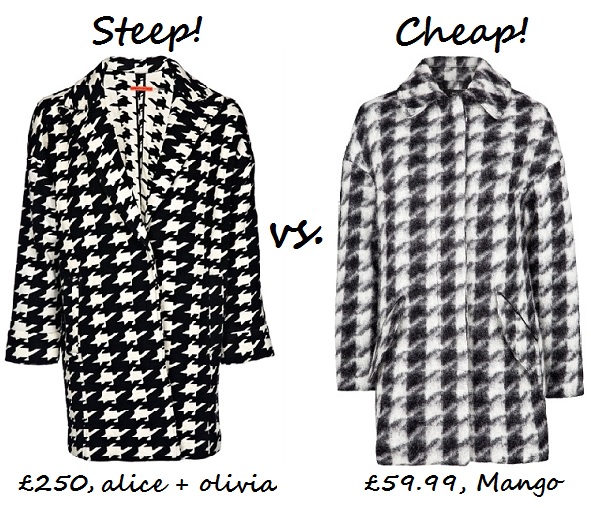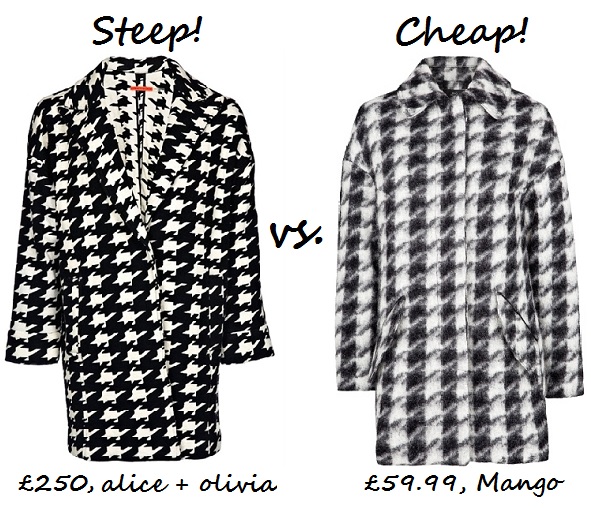 Spy the snowstorm this morning? Rather, did you survive it?
Well, given spring hasn't fully sprung, yet, we're still hanging onto our toasty, winter-warmer essentials. Yes, that involves a rather trusty and chill-proof coat – but one that doesn't compromise on style in the slightest.
If you've been searching for that winning combination, then look no further than our outerwear finds for this week's Steep vs. Cheap. Coming in at the pricey end is the Mosley coat by alice + olivia (£250). We're totally digging the houndstooth print (very Sixties), and can't quite get over the snug factor! The cocoon cut feels perfect for now, while the look-at-me print is strong yet classic.
Not got the extra cash to burn? Why worry, when high street saviour, Mango, is at the rescue? We've tracked down an equally modish version of the houndstooth-print coat in a delish wool-blend, for a rather modest price tag. Cashing in at £59.99, you'll have enough left over for a second splurge. Just don't blame us.
So, which one will it be? Shop both coats below.
Steep: alice + olivia Mosley long oversize cocoon coat, £250, available at Oxygen Boutique.
Cheap: Houndstooth wool-blend oversize coat, £59.99, available at Mango.