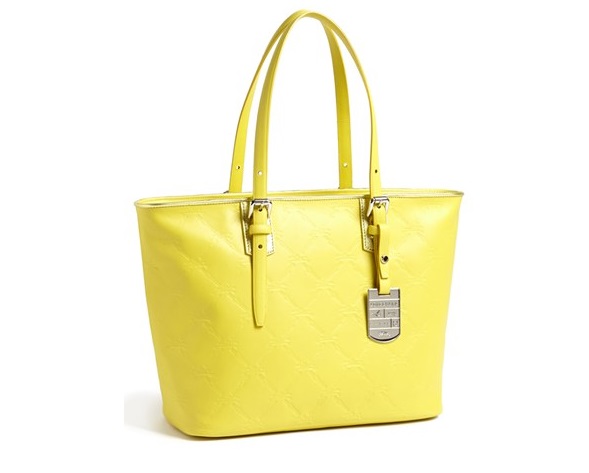 Every year some of the same trends reappear on the high street and when we see them, as I'm sure you'll all agree, we wish we hadn't gave away or thrown out some of the pieces from our wardrobes.
As eager fashionistas, we'll go out and buy those key pieces again, but of course it would have been better to pull out last year's clothing and save a little money – a lesson to remember!
To save you from making the same mistake twice, we've picked out our top ten staple items that will refresh your wardrobe and will stay in style all year, every year.
1. Whether you're a fan of the biker chick look or not, you can't go wrong with a leather jacket. It's become a key piece of every women's wardrobe, just like the little black dress. No matter the time of year, you'll see this staple piece dressed up with a pair of heels and ripped jeans or used to grunge down a pretty dress. River Island Biker Jacket, £60.
2. Pastel colours come in every year, although lemon is going to be especially huge this year. If you're unsure about wearing such a bright colour then choose accessories to achieve this stylish look. Lemon can be worn with any outfit, however it would refresh and give a twist to your everyday uniform or office attire. Longchamp Leather Tote, £377.15
3. In 2013 Converse made a huge comeback, and with such a wide range of styles, frankly they've never looked better. Every girl needs a pair of these, whether you're a fan of flats or need a trendy pair for the journey to work. The only key piece in your wardrobe that keeps getting better the more you wear them. tReds Converse, Prices Vary.
4. Now I know some girls dread wearing anything below the knee because they believe it's unflattering, but don't knock it until you've tried it. And you have plenty of time, as these long skirts are going nowhere. Simple, elegant and great for petite ladies look to enhance their height! Topshop Midi Skirt, £48.
5. Accessories are a huge statement piece that will never go out of style, so it's best to get some good quality pieces that will last you a good few years. Just like clothes the older these pieces are the better they look, as vintage never goes out of style. Asos Large Link Chain, £50.
6. You might think mac coats are only for spring, but combined with a jumper and scarf, you can wear this flattering, sophisticated coat all year. Unlike other coats, macs come in all shapes and styles so no matter your figure you'll find one that's suited to you. Principles Mac, £99.
7. One item you probably wear most of the time are jeans, and nothing beats a pair of black skinnies that fit you perfectly. To make sure you purchase a pair that fits you exactly, measure your waist and inner leg and when shopping go to a store that has a wide range of short, regular and tall, and always check the labels! New Look Skinny Jeans, £19.99.
8. Whether you're flat chested or were blessed with bigger assets, you can't go wrong with a white shirt or blouse. Whatever style you decide to go for, always get a size bigger than you usually are – trust me. Pair with skinny jean and killer heels and you'll soon see why all eyes will be on you and the streets will be your own personal catwalk. H&M Blouse, £12.99.
9. When you want a break from jeans, patterned trousers are just what you need. Now if you don't usually stray away from black, grab a pair that have black as the main colour or incorporates it. You can't go wrong with dogtooth, floral or tartan, as these trends come back every year. You'll definitely get a ton of compliments if you change to these once in a while. Very Houndstooth Leggings, £18.
10. A few summers ago thick belts were all the rage – now the thinner the better. Thick waist belts were rather uncomfortable weren't they? Well simply slip this tiny accessory on, that you'll hardy know is there and watch as it adds the perfect finishing touch to your outfit. Missguided Thin Belt, £8.99.