Last Updated on 19th February 2014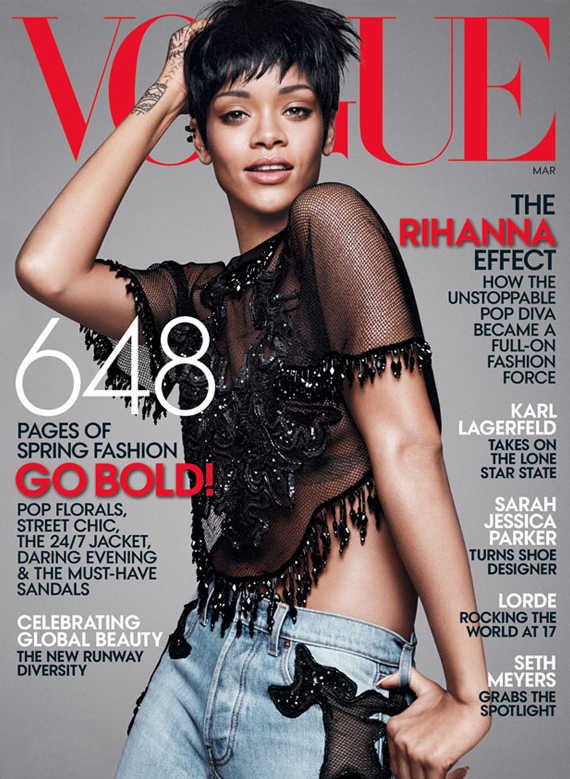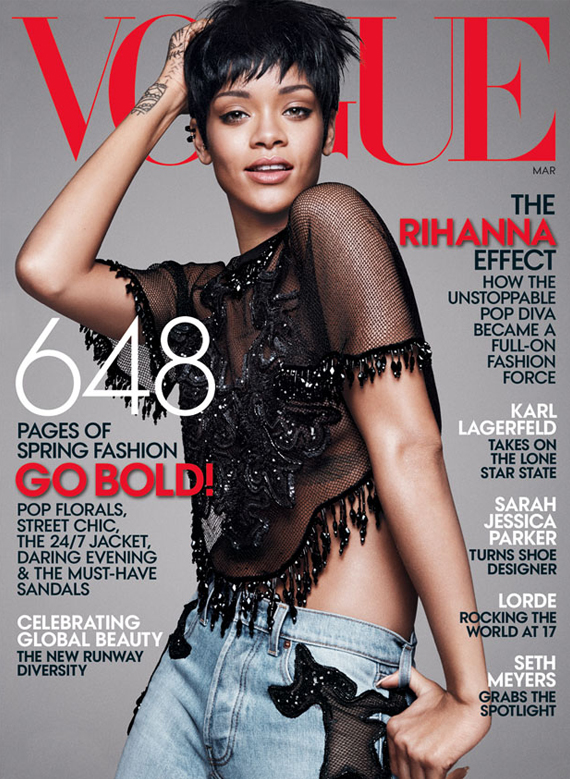 We guess the rumours of Kim Kardashian landing the coveted Vogue US March cover were false, but that doesn't mean we are disappointed with the fashion Bible's actual cover star, as it's none other than Rihanna!
The Bajan singer was photographed for her third American Vogue cover by David Sims, and is rocking a sheer cropped Louis Vuitton top and embellished jeans. She also models highly fashionable gear from the likes of Alexander McQueen, Calvin Klein (bottom left), Maison Martin Margiela, Versace, and more in the stunning editorial. Not to be missed!
Rihanna's interview are never dull, and this one was no exception as she talks fame, rebellion, and experimenting with men's clothes…
"When I was thirteen or fourteen, I didn't want to wear what my mom wanted me to wear. I was very much a boy in my style, my demeanour," she said.
"All my friends were guys. I loved things that boys did. I loved being easy with my clothes. I loved wearing hats and scarves and snapbacks on my head. It was my way of rebelling. I wanted to dress like my brother. After a while, it was just easier for Mom to dress us both the same. We wore the same jeans, the same T-shirts."
And speaking of rebellion…
"I don't go out of my way to be a rebel or to have that perception, but a lot of the decisions I make, a lot of the direction I want to move, is against the grain, or against society's tight lane, and I'm aware of that sometimes. It might not be fitting with the norm, but that's OK for me."
Make sure you pick up your copy of American Vogue's March issue to read more of the interview and see more wow-worthy pictures!
Are you disappointed Kim K hasn't landed the March cover or are you pleased with Anna Wintour's decision to use Rihanna? Let us know!