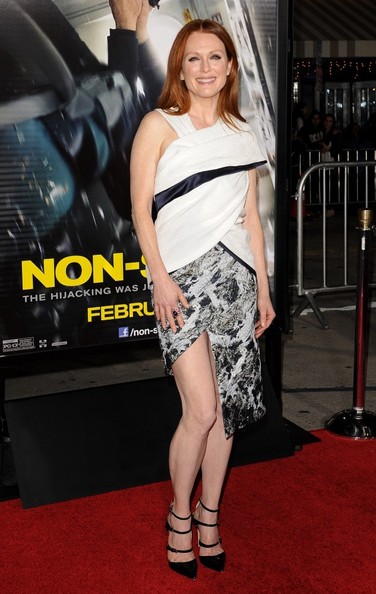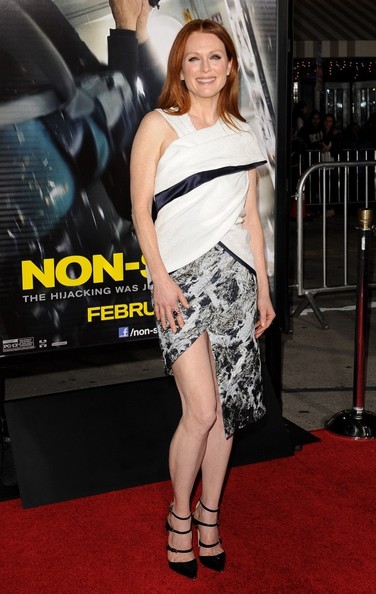 Celebrities like to stay ahead of the sartorial game, we all know that much. But when the result of that race to get first dibs on a runway-fresh look ends up leaning towards drab than abso-freakin-lutely fab, we have a few bones to pick.
This week, letting us down on the fall 2014 front is actress Julianne Moore, who sported a dramatic look from Prabal Gurung's latest runway collection to the L.A. premiere of Non-Stop, earlier this week – and didn't do such a great job of it.
On the runway, the printed wrap dress with an asymmetrical hemline looked great; but translated on the red carpet, its allure was lost. The wrap top looks super-unflattering on Julianne – as the fit around the waist was lost – in turn making the bottom half of the dress appear awkward.
However, all is not lost. We're totally diggin' those three-strap pointed pumps she paired with this red carpet effort, and her signature red mane looked sumptuously glossy; even the lack of accessories was a good thing on this occasion.
A better fit on the top half could've save this look, but as it stands, this one's going in the 'don't repeat' pile, Julianne.
What do you think of Julianne's look? Is our WDOTW verdict fair?
[Image: Zimbio]