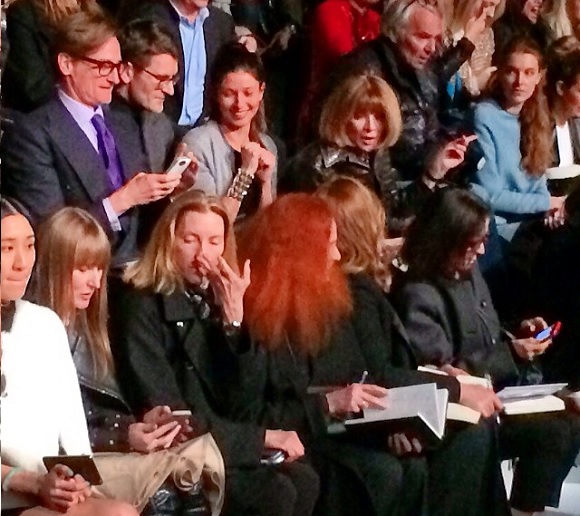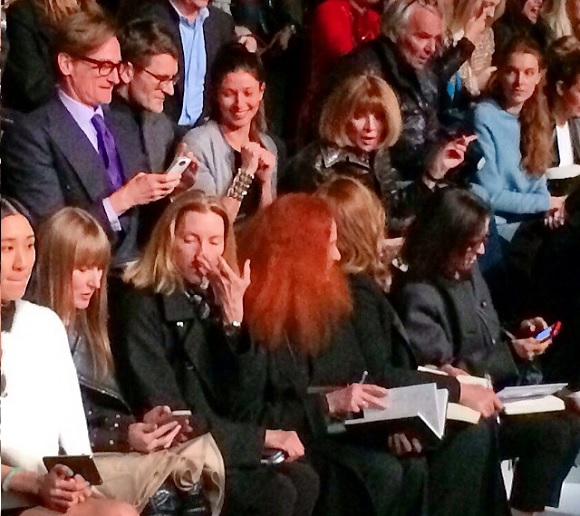 Do PRs not know the value of their lives (read: careers) anymore? Have they completely gone off their collective rockers, so to speak, and decided it's time to shift Planet Fashion's tectonic plates with a seating blunder?
Well, that's what happened, when The Anna Wintour was seated second row at the Valentino show earlier this week. SECOND row. Just take a few seconds to absorb that info-bomb.
It was a moment carefully pointed out by Christina Binkley, fashion columnist for the Wall Street Journal, who was the first to Insta-capture the head turning moment, later responding to the influx of Instagram comments with:
"Hey guys – she chose to sit second row. No one forced her. It was a gracious move."
Also, turns out, as reported by Fashionista, that seats for American publications at the show had been noticeably whittled down this year, which could explain the OMG bum-on-bench arrangement. But, still, is there a deeper meaning to Wintour's shuffle back? Is she rewriting the 'if you're not front row, you don't matter' rule? And, above all, did she really give up her seat politely, or was it a cunning manoeuvre on Team Valentino PR's part to get the conversation flowing beyond the dreamy clothes?
Whilst you ponder the possibilities, here are five other unspeakable things that could happen in fashion, but haven't so far. Phones at the ready, guys…
Chanel swaps OTT shows for intimate presentations
Just imagine: no glacial palaces or supermarket sweep layouts. If this happened, would it be the end of Chanel as we know it? Would Kaiser Karl and his ponytail lose their allure? Freebie riots aren't fun in small spaces.
Street style photographers slapped with a ban
Imagine. JUST IMAGINE the possibilities of looking 'normal' at Fashion Week. Well, it would certainly take the pressure of looking 'put together,' but where's the fun in that, eh?
Cab strikes
Can you just imagine the conversation (and lack of heels) aboard a double-decker bus or tube carriage, transporting a gaggle of tired and hungry editors around? This is what would happen if cabbies went on strike, twice a year, during fashion month. Eek!
Phone bans
Erm, sorry, we don't concur. Are you asking us to watch a show, instead of tweet and Instagram through it? Excuse us, while we go hyperventilate in the corner.
Fashion month uniform
Emmaneulle Alt's got one. Anna Dello Russo's every show appearance consists of one. But, imagine the fashion month landscape if some yet unformed authority could regulate what you wore to the shows, and predicted an all-black errything (sorry) uniform to stop the collections being upstaged? Technicolour fur and Valentino studs, see ya.
[Image: Christina Binkley Instagram]