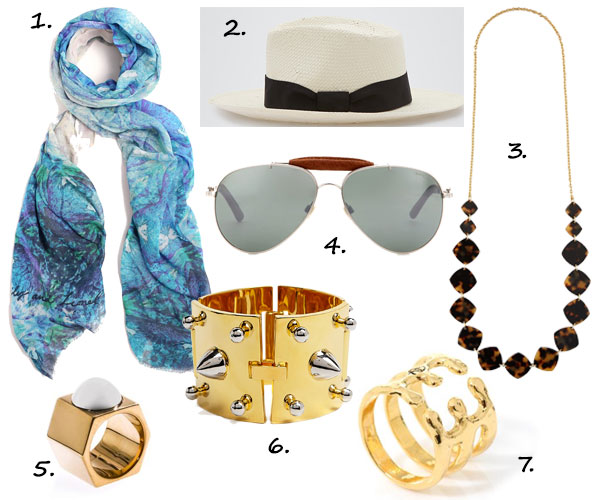 Do you prefer to let your accessories, rather than your outfit, do the talking? Sometimes, it's those essential little embellishments that instantly take an outfit from average to amazing, and there's a whole selection out there we're diggin' right now!
Much like a wardrobe comprised of stylish essentials, accessories demand equal attention. Be it the perfect pair of sunglasses or the ideal hat, it's all about investing in the right pieces that you'll return to, again and again.
Below, we've rounded up the best accessories to effortlessly see you through the summer season. From a print-splashed scarf to a statement evening cuff, you've got no excuse to let the standard slip. Shop away!
1. Perfect for livening up a casual look: Palmilla scarf, £99, available at Lily & Lionel.
2. Your ideal beach holiday companion: Effie straw trilby, £35, available at Reiss.
3. Slip this over a maxi dress for instant holiday glam: Tortoiseshell resin necklace, £60, available at Jaeger.
4. Is there ever an excuse great enough to not warrant another a sunglasses purchase? Ralph Lauren Western pilot sunglasses, £209, available at My Theresa.
5. If you take a minimalist approach to accessorising, you'll love this ring: Chloe Babeth gold & silver tone ring, £150, available at Matches Fashion.
6. Let this cuff do all the talking at your next party: Eddie Borgo two-tone studded cuff plate, £275, available at My-Wardrobe.
7. It's all about letting pretty rings rule when accessorising, and this one comes out top: Aurélie Bidermann Esteban gold-plated ring, £180, available at Matches Fashion.