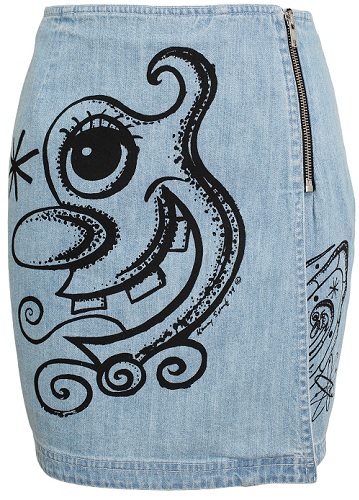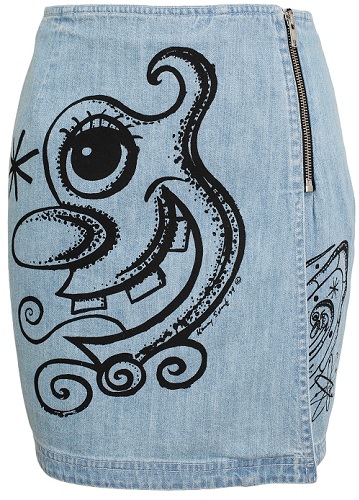 We love it because..
It's Jeremy Scott, that's why! Bringing unabashed fun to the runway, Scott knows how tickle our fashion fancy when it comes to head-turning looks. Point in case: The Moschino autumn/winter 2014 show. And, once again making us fall in love with his work this week is this cartoon-print denim skirt (£340).
The ideal piece for pepping up an off-duty look; you won't go unnoticed in this little denim number. And, if you're feeling super-brave, you can even wear it with the matching shirt. Denim-on-denim with a playful twist? YES!
We're saying YAY to…
Easy to style: Open to a multitude of styling opportunities, this skirt won't let your wardrobe down. Wear with  a casual white tee and sneakers for weekend comfort, or team with heels and a leather jacket for cocktail hour.
Great summer investment: Looking for the perfect mini to complete your summer wardrobe? Let this be the one – if you haven't already found 'The One,' that is.
And NAY to…
Price: Well, given it just about grazes your upper thighs, at £340 a pop this skirt will have you feeling the pinch on rent day – and that's not around the waist, either.
One-wear-then-despair: As much as we love the outré, oh-so-Jeremy-Scott print, whether it warrants several wears is another story. Would you dare pull it out again, after a well-applauded debut? Hmm? Decisions, decisions.
Jeremy Scott cartoon-print denim skirt, £340, available at Browns.