Last Updated on 19th May 2014
Since she first graced our screens at the tender age of 9 as Hermione Granger, the slightly snooty wizarding swat of the global smash, Harry Potter, Emma Watson has grown up on the world stage to become an articulate and elegant role model.
Despite the pressures of being in the limelight for most of her life, the actress, aged 24, has managed to keep her priorities and outlook grounded.
In a recent interview with The Guardian, she discussed the pressures of being a young woman scrutinised by the media and the difficulty of coping with its criticism of her appearance, but says that she has now "made [her] peace with it."
All too aware of the pressure on young women to look a certain way, she takes the wise, pragmatic view that "With airbrushing and digital manipulation, fashion can project an unobtainable image that's dangerously unhealthy."
This 'image', is something Watson refuses to conform to.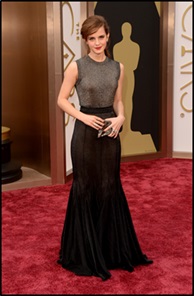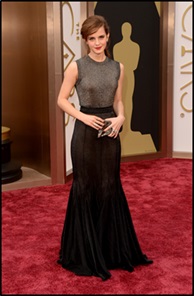 By rejecting over-sexualised fashions in favour of a classy, elegant look, Watson's style makes her stand head and shoulders above many women her age.
The actress, who has recently been on tour promoting her new movie, Noah, in which she stars alongside Russell Crowe, as Ila, Noah's adopted daughter, has made a natural ambassador for Great Britain as the quintessential English rose.
This year, she made her Oscar debut presenting the Academy Award for Best Visual Effects to the creative team behind Gravity, with grace and sophistication.
Dressed in a stunning Vera Wang gown, Watson appeared effortlessly feminine on the red carpet.
On her return from the States, Watson showed that elegance can be achieved anywhere.
Her understated look as she landed at Heathrow was achieved with a casually chic Winsor short trench coat in beige, which she paired with a classic white t-shirt, high-waisted black skirt and shades for a touch of glamour.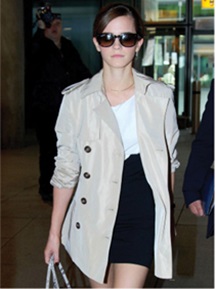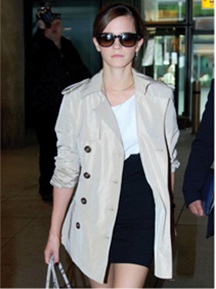 It seems that Winser are quickly becoming the clothing range of choice for women who, like Watson, pride themselves on a modest wardrobe.
Jo Glynn-Smith, Retail Editor at Harper's Bazaar and style consultant to the stars lives by the motto that "Dressing well can positively shape your future."
She too has been spotted out and about wearing a Winser London maxi, silk-shirt dress. Her stance on dressing for success seems to be one that's shared, and proven to be true by stars like Watson.
The role model's fashion choices make her stand alongside other women like Kate Middleton and Cressida Bonas, who are giving young women a new, sophisticated style to aspire to.
Winser London is the brainchild of accomplished businesswomen Kim Winser, OBE, who has a track record of revitalising brands like Pringle of Scotland, M&S and Aquascutum.
The collection, which caters for women of all ages is available online or in pop-up stores in some branches of Harvey Nichols, Peter Jones, John Lewis and Rossiters of Bath.
To replicate the chic style of Emma Watson, visit Winser London and build your own collection of timeless, iconic clothing.