Last Updated on 26th June 2014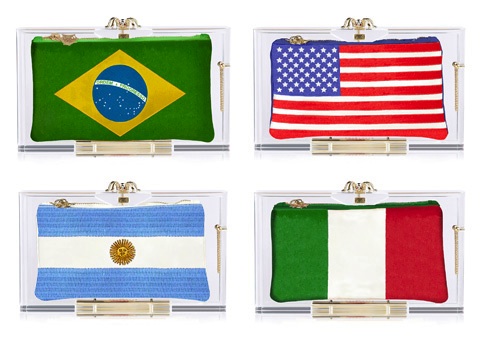 Ladies, have you lost your boyfriends or husbands to The World Cup? You aren't alone, but quirky accessories designer Charlotte Olympia has tried to make it a little more bearable for us (staring at muscular men in shorts won't distract us forever!) by designing an exciting collection of World Cup inspired clutch bags.
"I am half-Brazilian and have three small boys, so I wanted to create this fun and feminine collection to celebrate Brazil hosting the World Cup," the designer said.
The capsule collection of  Hat Trick Pandora clutches is comprised of classic Lucite boxes with satin inserts which have each country's flag printed on them, and will be available from July 4th.
It's no secret that Charlotte Olympia takes a theme and totally runs with it. She truly gets stuck in and immerses herself her projects, which is why we are never disappointed with what she comes out with. And her latest project is no exception.
As with all Charlotte Olympia products though, the toughest part is actually choosing a favourite to buy. Do you go for your country's flag or the host country? Or the country with the hunkiest men? Or do you wait 'til the final and choose the winner? Hm, we think we're going to be here a while!
The bags will be available from Charlotte Olympia stores in New York, London, Beverly Hills and Miami, and will retail for $1,195.