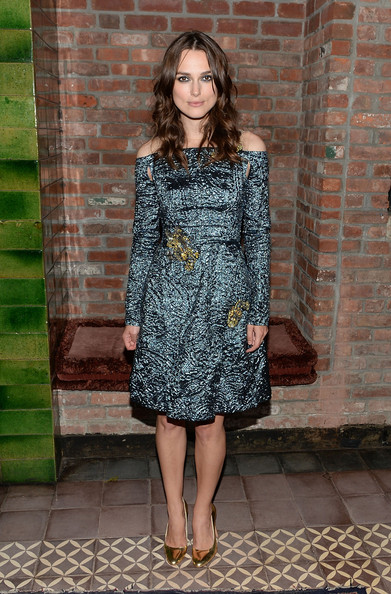 Keira Knightley had quite a few outfit changes yesterday, as she had to show her face at a lot of places as part of her promotion for her new film, Begin Again.
While we couldn't fault the Valentino autumn/winter 2014 dress she wore to the Begin Again New York premiere – it was long, romantic, elegant; classic Keira!) we found ourselves getting far more excited by the outfit she wore to the after party at the Bowery Hotel.
As the occasion suggests, Keira went for a more fun and party-appropriate look, opting to wear a metallic blue and gold dress from the Erdem autumn/winter 2014 collection. Oh, to be a celeb and have access to the latest designer collections…
We digress! Keira completed her metallic party look with voluminous waves, matching blue eye make-up, and gold pumps which accentuated and complemented the gold features of the dress perfectly.
We love these shorter hemlines on Keira and can't wait to see what else she pulls out the bag on her promo tour!