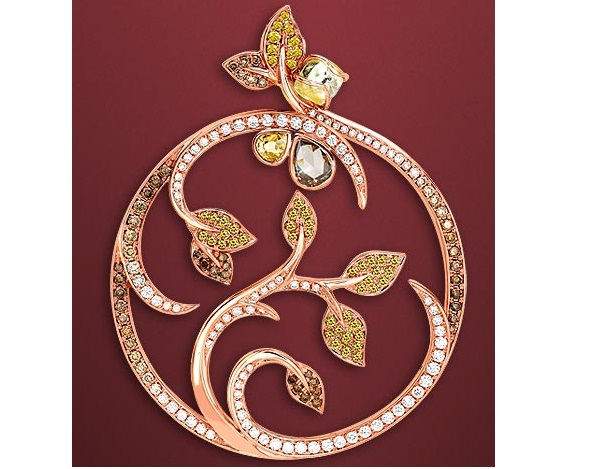 Jewellery has immersed itself as an indispensable part of fashion; gone is the divide between costume jewellery and fine jewellery. More specifically, since the rise of the elaborate bib necklace and body jewellery, accessories are longer a decorative afterthought but a key feature of any outfit. This was all unquestionably apparent at the most recent Spring Fair trade show at the NEC back in February and also at London Fashion Week AW/14.
Today, no outfit is complete without the perfect piece of jewellery and this has been no secret at recent trade exhibitions. But whilst on one hand we have bold and daring left-field designers such as KTZ adorning their catwalk models in shameless trimmings, we also have some tenacious classics creeping back in.
Statement Pieces: KTZ, Simone Rocha & Jane Bowler
At LFW, KTZ certainly made its mark with its powerful and authoritative accessories, along with Simone Rocha's unashamed applications of large, gold adornments. Jane Bowler, who unveiled her collection at the London Fashion Week designer showrooms, addressed the audience with a new concept of how jewellery and garment design could merge into one discipline, using accessories to replace garments.
Newcomer, Nadia Dafri made an impression at the February Spring Fair fashion show with a flamboyant and intimidating colourful collection which is sure to set light to the fashion scene. Or for something more accessible, Sarah Angold's Topshop collection released to the public with a bang last year, featuring some eye catching and uber contemporary acrylic pieces.
Floral Flutters for AW14
Surprisingly, florals have found a solid platform in AW14 designer collections. As a trend which flickers in and out of the limelight with fabrics, floral designs have never had much credence in the accessory design world. Floral prints, which can easily be dismissed as 'juvenile', 'twee' or 'girly', have now established an influence with designers such as Matthew Williamson and Osman and this has been evident in their choice of catwalk accessories.
Babette Wasserman London was a hot favourite at the recent Jewellery & Watch show in Birmingham, kicking off this year's winter collection with some elegant and understated floral designs, proving that florals don't always have to be overly feminine.
The Classic Comeback: Diamonds and Watches
Today, there really are some big and powerful names pretty much dictating the catwalks in recent seasons – designers such as Ashish Gupta, PPQ, Moschino, KTZ and Meadham Kirchhoff make it clear that the bigger, the bolder and the wackier = a perfect fashion formula. But that's one thing that jewellery design doesn't take from the fashion world; classic jewels always find room to make a decent comeback.
With fine jewellers, diamond designers and watch designers in particular, some of the classic trends will always revisit the world of retail.
George Pragnell refreshes its single stone designer diamond rings every single year because it always remains as a true classic, loved by all women, of all classes. Tiffany offers a timeless 1837 range which features some of its very first, and most iconic, necklace and bracelet designs. And Michael Kors has been a key player in the recent return of the stunning classic rose gold watch trend.
So AW14 rolls out the carpet for some old, undying and much-loved design trends of our time. It will be exciting to revisit Spring Fair 2015 and LFW to see which trends roll into SS15 and AW15.