Last Updated on 4th March 2015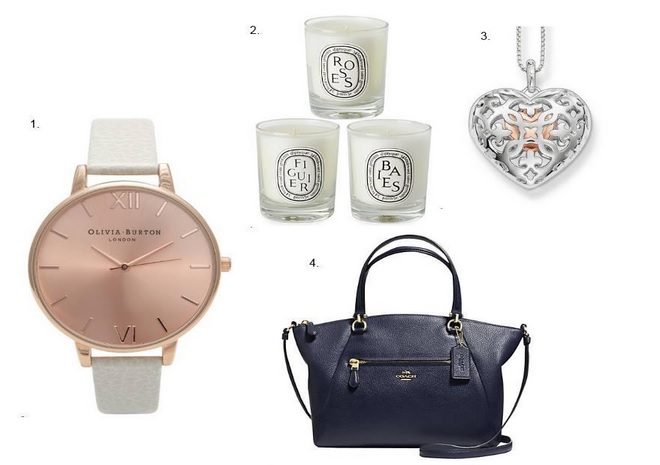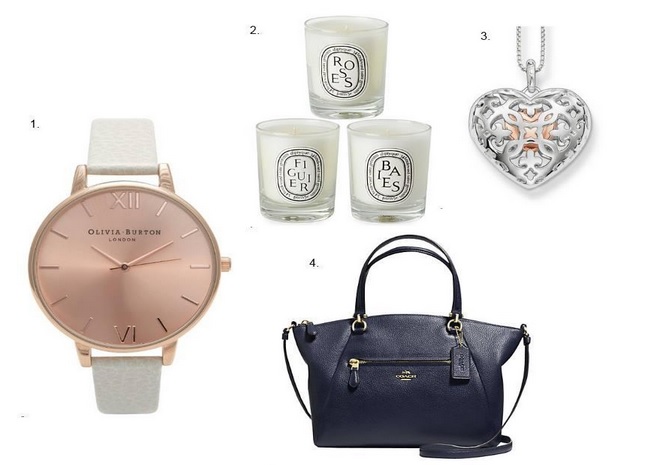 Mother's Day is coming up and it's easier than you think to find that special something for her. If you're having trouble, here are four simple yet perfect gift ideas to take a look at. Be warned though, you might just want them for yourself!
1. Olivia Burton Big Dial Ladies Watch from The Watch Hut, £75 – This gorgeous Olivia Burton watch features a rose gold case and sunray effect rose gold dial with a soft white leather strap. The dial is oversized so it will stand out on your Mum's wrist. It will also be the only item of your Mum's that you'd want to wear.
2. Diptyque Baies, Figuier and Roses mini candles x 3 from Selfridges, £60 – If you've never seen these candles before- where have you been? A cult beauty favourite, this set comes with three of their most popular scents. Baies is a mix of roses and blackcurrant leaves, Figuier has the freshness of fig wood and leaves and Roses smells of, well, a bouquet of roses.
3. Sterling Silver Glam & Soul Pendant Locket Heart from Thomas Sabo, £89 – There's nothing more perfect for your Mum than jewellery and this heart locket from Thomas Sabo is a beautiful sentiment. Open it up to reveal the 18k rose gold plated heart inside.
4. Coach Prarie Leather Satchel Bag in Navy from John Lewis, £245 – This simple yet elegant Coach leather satchel bag is lightweight and in a fashionable navy colour with a slight sheen. Your Mum can throw it over her shoulder using the short straps for a more classic look or use the longer strap for a more casual wear. We also know how much Mum's like to carry in their bags so there's multiple pockets for easy organisation and storage.