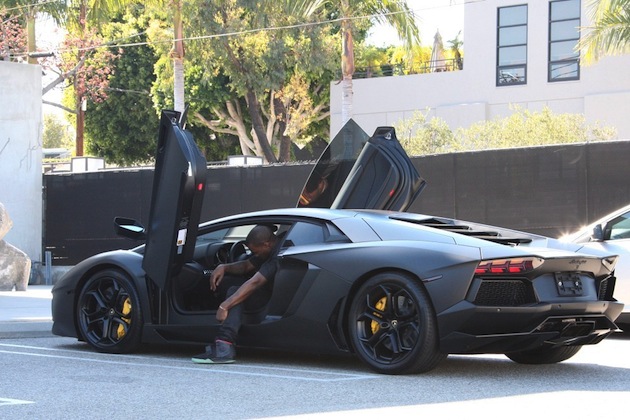 Something all good celebrities keep in mind is that if you're earning mega-bucks, it's important to spend it well. That doesn't mean on fine wine or strategic offshore investments. People, fans, want to see their heroes blowing their money in spectacular fashion. And one of the most popular ways to do that is on cars. Even if, like Brad Pitt and Angelina Jolie, they have a large brood of kids, you can be sure that whatever people carrier they drive is going to be thoroughly pimped. Here are 10 of the very best celebrity motors…
Chris Evans
The carrot-topped radio presenter famously scored a fortune when he sold his production company, and went on to blow a lot of it in the best way possible – in the pub with his mates, and on wooing the lovely Billie Piper. But Evans is also a renowned car lover and he has several enviable vehicles in his collection, including a 1963 Ferrari 250 GTO he reportedly bought at auction for an amount in the region of… hold your breath, £12 million.
David Beckham
Another Brit doing us all proud is Golden Balls himself. While us mere mortals head to Tyre-Shopper to pimp out of cars, before he sold it, his Rolls Royce Phantom Drophead was customised with a completely black exterior, including the Spirit of Ecstasy. The interior was tricked out with white leather, supposedly embroidered with his former Real Madrid shirt number, 23, and gorgeous teak decking. A top-of-the-range multimedia system was installed to keep the kids entertained, and beneath the hood, a 453HP V12 engine with 6 speed automatic transmission. So, not exactly a Focus!
Jerry Seinfeld
Estimates vary on how many Porsches Seinfeld has in his huge car collection, but the general consensus seems to be at least 40, possibly as many as 70. And… that's just Porsches. He shows off a new car in every episode of his show Comedians In Cars Getting Coffee, but a standout is his 1955 Porsche 550RS, said to have a price tag of over $3 million. Only 70 were ever produced, one of which James Dean was driving the day he died. It's extravagant, yes, but is anyone really going to begrudge the guy who gave us Seinfeld?
Jay Leno
$3 million is nothing however, compared to what fellow comedian Jay Leno will happily shell out. The former host of The Tonight Show is a MAJOR car buff, not just owning a fleet of incredible vehicles, but spending his free time maintaining them himself, even designing new parts. The jewel in this collection is undoubtedly Leno's Rolls Royce Silver Spur Limousine, estimated to have set him back something in the region of $14 million, or over half his annual salary.
Jay Kay
A minnow in comparison, another Jay, also known as Jamiroquai, has some 50-odd cars in his garage, with some beautiful old classics including a 1967 Ferrari Vignale 330 GT. You can't say it's not distinctive!
Paris Hilton
You don't hear that much about Paris Hilton anymore, but when you do see her papped in the tabloids, she will often be behind the wheel of her favourite motor, a baby-pink Bentley she has owned for years and reportedly bought because she wanted to be like Barbie.
Nicolas Cage
Cage gets a lot of stick for the roster of awful movies he puts out in between his great ones, but there is a valid reason – in 2009 he got stuck with a mega tax bill, having blown a fortune on homes, art and cars, including a rare Ferrari Enzo with a price tag of over $1 million.
Kanye West
Whereas most of us are happy to get a night in the pub with maybe a steak dinner from our missus for our birthdays, the Yeezus-singer received a $750,000 Lamborghini Aventador from Kim Kardashian. A shame, then, that it got scratched up badly between her electric gates when it was being returned from a servicing. West also recently bought a miniature version, for his daughter North.
Jay-Z
The man who discovered Kanye and brought him to the world's attention, Jay-Z is no slouch himself when it comes to cars. He is said to own a Maybach Exelero that cost a whopping $8 million. Featured in his video for Lost One, it comes with a 700HP V12 engine, and can reach 0-60 in just over four seconds. Not to be outdone, wife Beyonce has a Rolls Royce Silver Cloud II and a Mercedes Benz SLR Mclaren.
Steve McQueen
Finally, Steve McQueen, a renowned petrolhead, owned the Mustang and the Dodge Charger he drove in Bullitt, the Porsche 917 he drove in Le Mans, the dune buggy and Rolls Royce from Thomas Crown Affair, as well as the Triumph he rode in the Great Escape. He loved cars, bikes and planes so much they were really one of the few reasons he made movies, and he would usually do his own driving and stunts.
His personal favourite was his Jaguar XKSS which garnered him many speeding tickets. On one occasion McQueen avoided one by telling police officers he was rushing his pregnant wife to hospital as she'd gone into labour early. They escorted him as far as the emergency room where he eventually told them it was a false alarm and promptly scarpered.