Last Updated on 1st August 2016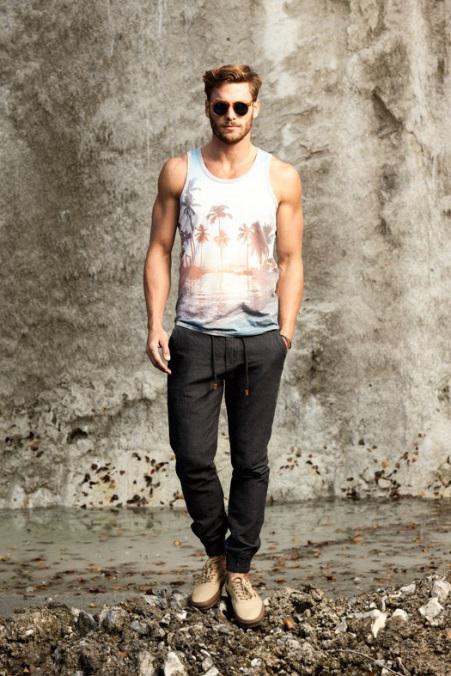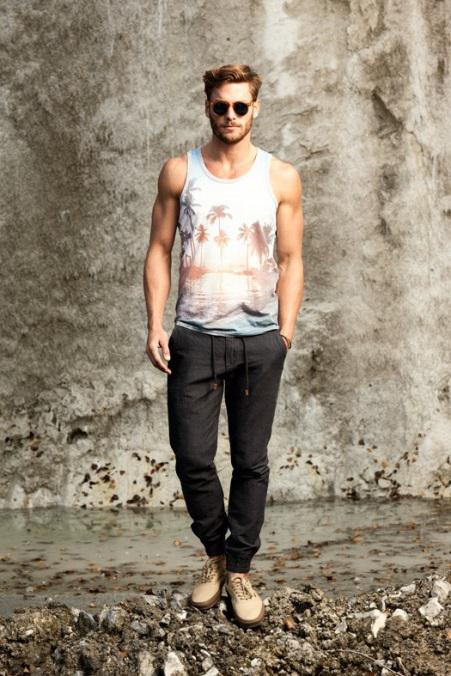 Projek Raw strives to reach the personality of the young professionals and customers living by the pulse of the city. Staying on trend and open minded will come as second nature to the Projek raw man with a closet full of savvy acquisitions. They produce key elements that pull a polished look together, the brand focuses on men fashion as a reflection of the current moment.  A living wardrobe that is peppered with denim, the desire to explore and experiment with attire will be spurred on by nontraditional tailoring choices in shirts, tank tops and t-shirts. Projek raw creates a mysterious and unpredictable tone that prompts the right risk taking. You will be able to remix your unique style, with bold colors, bias cut accents and contrast plackets and pockets draw a picture of a man's unlimited potential.
Burnout dyes and broad stripes add a playful element that complements a seriously fashionable incendiary that yearns to make a statement. It was developed by those who make their views and opinions known and perpetuated by those whose style cannot be contained, Projek raw values an explosive style and is meant for those who are unafraid to live life boldly.
Projek raw has the desire to design and create original unique free spirited wear, made for people who are opened minded and want to make themselves known as moving to their own beat. Projek raw was made by open minded people, they have made a statement and will continue to make their views and options known. Projek Raw is a rand geared towards customers ranging in age the early twenties to mid-thirties. The goal was to target a very specific clientele that had been overlooked until then. Today a brand with a unique and explosive style, the spark that ignited the idea for Projek Raw was the willingness to innovate in the clothing domain. Each has its unique cut and look, made for every occasion with a bold look, made by people who want other to have fun, laugh, look good, feel comfortable, get good jobs, get sweaty dancing and go home with someone who also did those things.
The T-shirt is an easily fitted, easily cleaned, and inexpensive, and for those reasons it has become the shirt of choice for young boys, made in various colors and patterns. A V-neck t-shirt has a v-shaped neckline, as opposed to the round neckline of the more common crew neck shirt. V-neck were introduced so that the neckline of the shirt does not stand out when an outer shirt is worn over it, these t-shirts have flourished as a form of personal expression.
Projek raw shirts is a style of men, it is normally associate with short sleeves, round neck line known as a crew neck, V-neck and button down with front pockets. Typically made of cotton textile in a jersey knit, it has a distinctively pliable texture compared to shirts made of woven cloth. The majority of modern versions have a body made from a continuously woven tube, on a circular loom, so that the torso has no seams in some cases.  Projek raw shirt, t-shirts and tank top are perfect for family reunions, any occasion, and show off your style, looking for a cool vintage? You've certainly come to the right place Projek raw, with a wide variety of broken in looking tees that will have you looking great. Pair one of these shirts with some denim jeans and you will look fashionable wherever you go. There is a plethora of styles for you to select from, from celebrities to social media stars, everyone has seemed too jumped on this trend, and you can too at a reasonable price. Style is not only about fashion, it's also about integrity, confidence, achievement and kind of change these people have been able to bring about.  
There are tank tops which is another simple look, for your laid back moments or to the beach for the younger generation. Blue and white stripes. Something young and funky, summer look, not a bright color. There are other options, darker colors and brighter options. A lightweight fabric. As men wear has change, manufacturers have explored new fabrics, colors and cuts that have relegated the plain white tee. While you can still get a white cotton t- shirt, there is no tag to irritate you while you wear or show during your day. Far from being a compression shirt, it does have a bit of stretch to keep it in place. There are shirts to turn up your swag, with a little red, gives you a professional look or a casual affair. A summer look, very comfortable and classy with buttons down the front, with a pocket. Add these with some denim jeans and complete your unique style.