Last Updated on 27th February 2019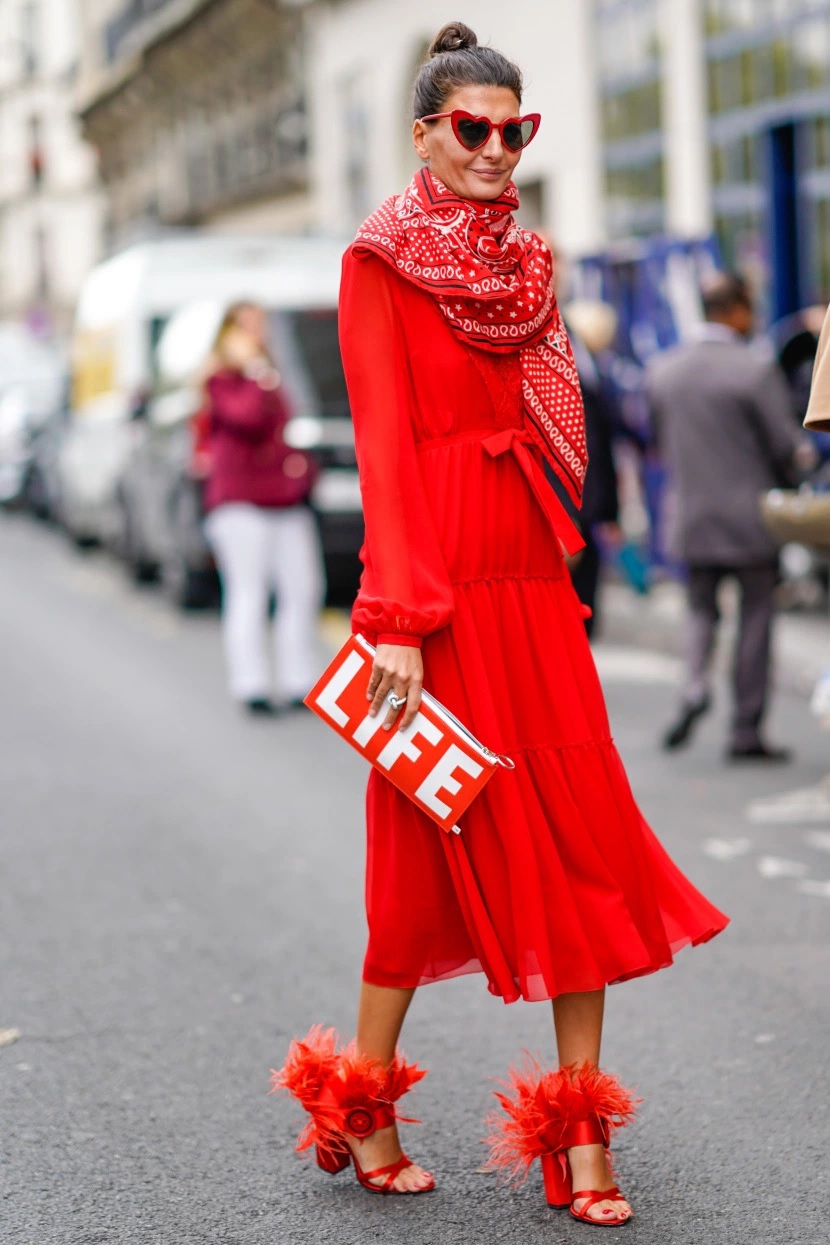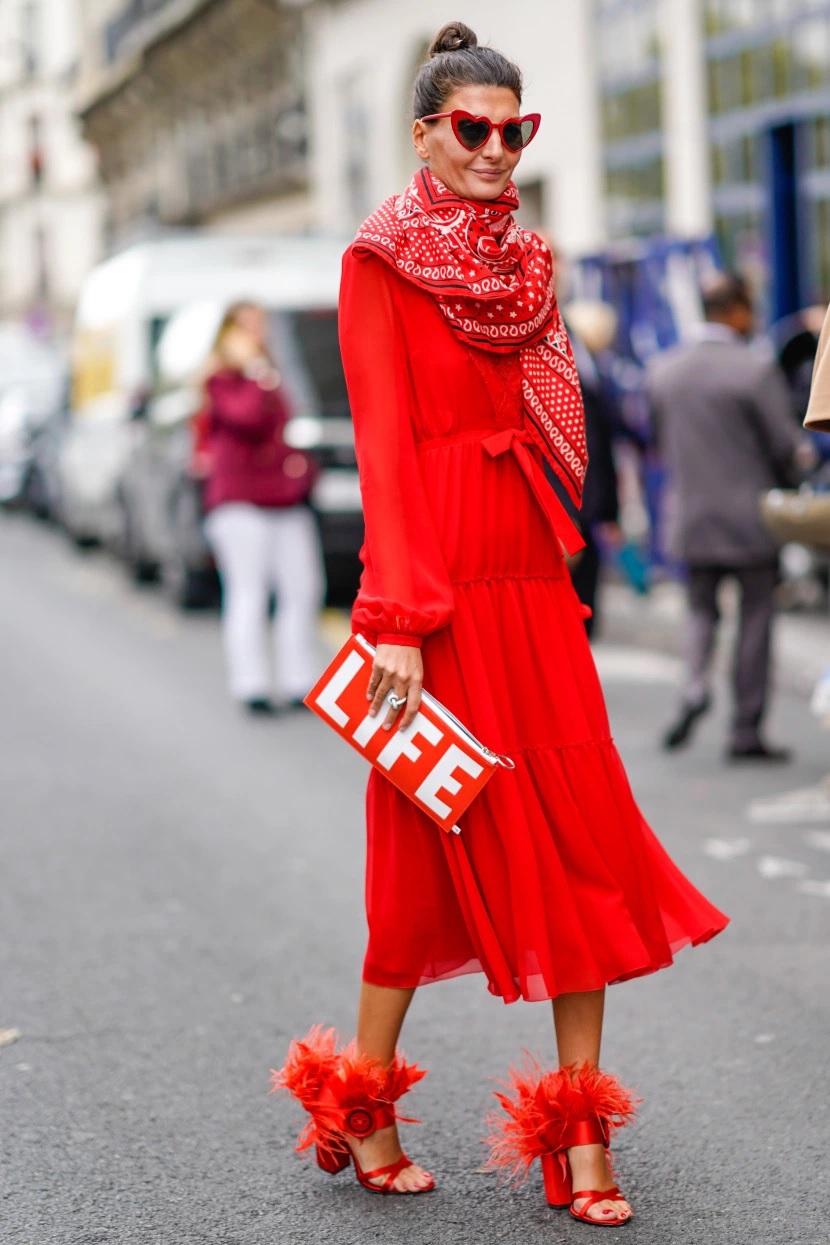 Ah, Valentine's Day: the perfect excuse to pile on the sweetness in the form of tulle, sequins, hearts and all-pink everything. It's also the perfect excuse to wear your comfiest silk pajamas and settle in with a box of chocolates and a glass of wine, if that's what you're into. There's no formula to Valentine's Day dressing—it all comes down to the plans at hand and your personal style preferences.
Whether you consider yourself all-out extra—think: lipstick-print sweaters and "Be Mine" graphic tees—or a more subdued celebrant, you'll find something on this list that helps you show your love for everyone's favorite amorous holiday.
1. A Tulle Skirt with, Well… Anything—Pardon us for being really thrilled about the ultra-romantic, ultra-trendy tea-length tulle skirt. The perfect pick for Valentine's Day—or any date night look for that matter—the twirl-worthy tulle skirt lets you show off your favorite pair of statement shoes while simultaneously playing up the romantic and feminine vibes. Pair this style staple with some delicate jewelry and a sparkly clutch and you've got a look apropos for dinner and dancing.
2. A Flirty Heart-Red Romper or Jumpsuit and Heels—If you're lucky enough to live somewhere where the weather is mild on Valentine's Day, showcase your stems with a mini romper in everyone's favorite Feb. 14 shade: primary red. Any hue in this color family—candy apple red, scarlet, imperial or rose—would fare perfectly with your holiday romper. If it's a bit too chilly where you live, you can still show off your flirtatious one-piece love with a pant-length jumpsuit in this sweet hue.
3. A Number That Resembles the Dancer Emoji—There's no Valentine's Day ensemble quite like the candy apple red ensemble worn by everyone's favorite cheeky emoji. Mimic her look with a knee- or calf-length skirt in some kind of flowy fabric—tulle, chiffon, satin, whatever—and finish the getup with coordinating red pumps. This is an amazing style idea for those celebrants who plan to hit the dance floor on Feb. 14!
4. A Monogrammed Boyfriend Sweater and Jeans—Who are we kidding? The vast majority of us will spend our Valentine's Day evening at home with our partner or at a semi-casual restaurant, not out on the town or at some fancy bistro. In these scenarios, you can keep it cute but casual with a monogrammed boyfriend sweater that's equal parts laid-back and intentionally stylish. Pair it with your favorite pair of skinny jeans or leggings and some style-heavy booties or riding boots. Rock this look if you're heading out to the dive bar, movies or to do anything outdoors.
5. A Pencil Skirt with Themed Finishes—Planning to meet up with your date after work? You can dress up your flirtiest, office-ready pencil skirt with a few Valentine's Day finishes, like a pair of sweet and sexy heart tights dotted with some V-Day charm or a pair of red heart earrings that give any everyday look an amorous upgrade. You could also top your 9-to-5 style with a red blazer or cardi for a festively layered finish.
6. A Fun Graphic Tee Perfect for the Occasion—For some of us, it isn't a holiday-themed outfit without a fun graphic tee. And there's excellent news for anyone with strong tee game—there are more V-Day graphic tees out there than ever before, so you'll find one that shows your very specific holiday mood. Whether something simple and classic like "Be Mine" or "All You Need is Love" or something silly or irreverent like "Let's Make Out" or "I Love You More Than Coffee," you can't go wrong when you send a message through your style.
7. A Dusty Rose Velvet Wrap Dress or Top—This year, romantic styling is all about the dusty hues, including dusty rose. And we all know that two of the hottest fashion trends of the year are the wrap dress and velvet, velvet and even more velvet. Why not combine all of these simultaneously in-vogue and romantic trends to create one standout look that screams romance?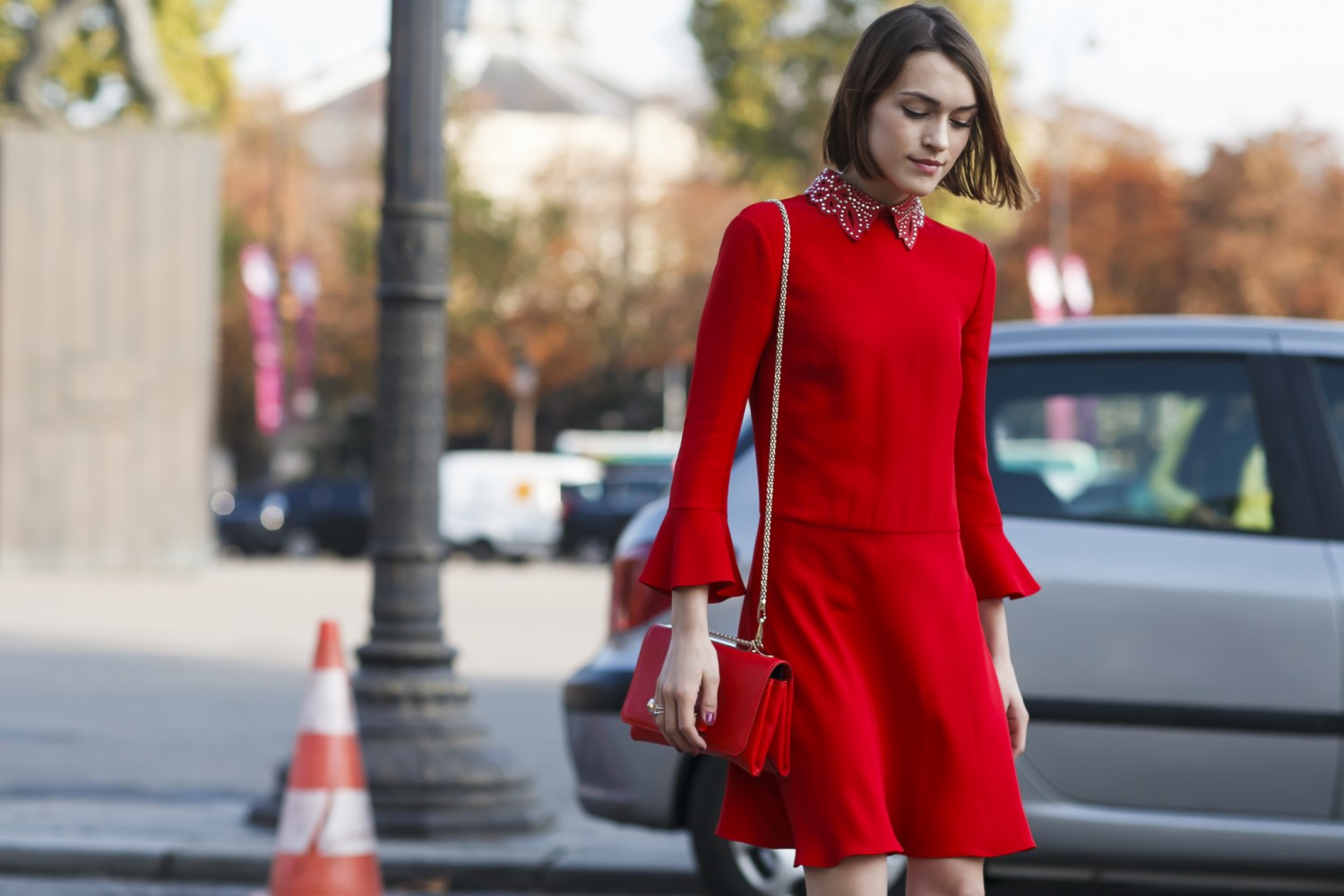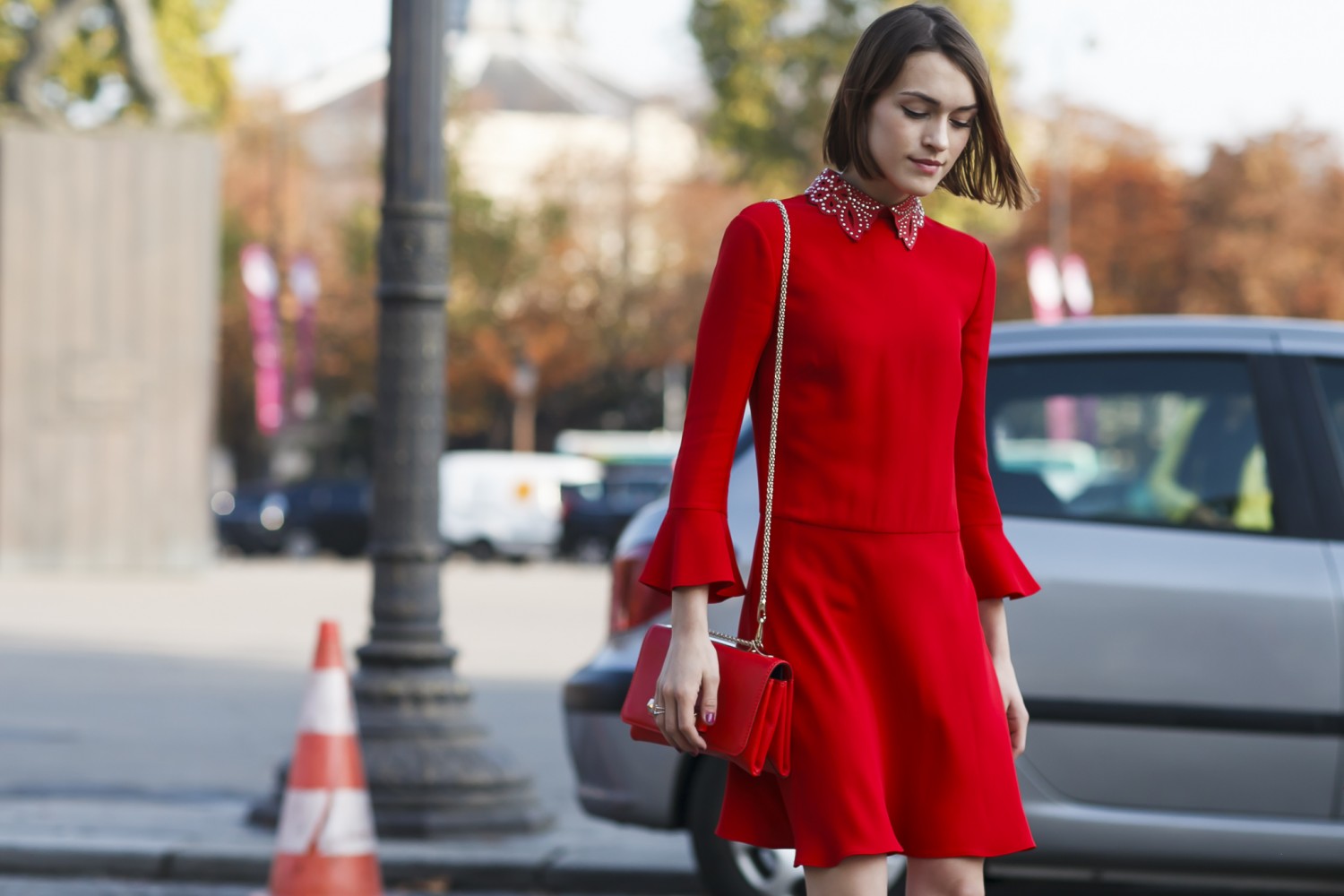 8. A Silk Top with a Flirty Skirt—Silk, like velvet, is one of the most luscious and by-definition romantic materials out there. It's flattering, touchably soft and inherently sexy, making it the perfect topper to your otherwise basic Valentine's Day ensemble. To capture the ultra-romantic feel of this sultry fabric, wear it on top with a curve-hugging or twirl-friendly skirt that brings dimension and balance to your V-Day look.
9.  A Rose Print Dress, Skirt or Romper—If tulle, velvet and silk are the materials du jour on Feb. 14, then rose print is the patterned counterpart. Although anything floral will bring a fabulously feminine feel, no bud is quite as symbolic of romance, love and affection as the rose. And, thankfully, rose print dresses, skirts and rompers are all the rage right now, so you'll be able to find one that's perfect for your Valentine's Day plans.
10 A Burgundy Dress with Black Tights—Everyone's favorite brooding winter shade is burgundy, and it sure is romantic! Spurring images of fine wine and winter romance, burgundy pairs perfectly with black tights or skinny jeans to create a deep and subtle Valentine's Day ensemble. This is the perfect option for Valentine's Day dates at the cocktail bar or lounge.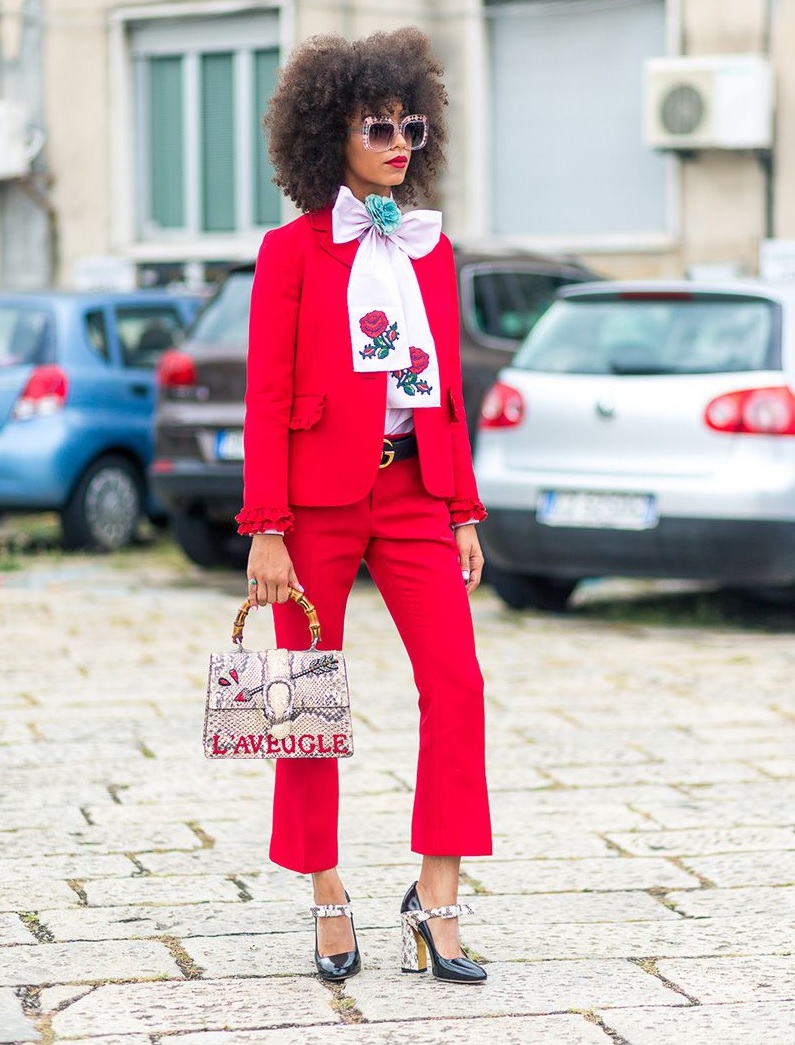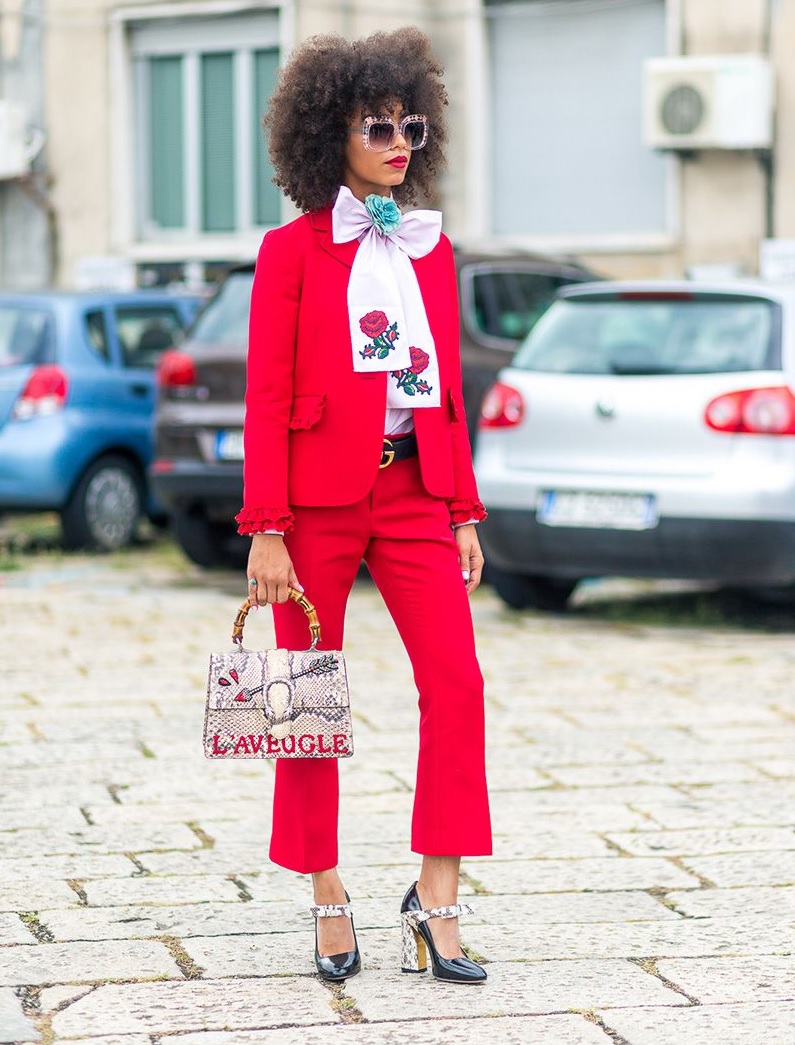 Accessories Make the Outfit
The key to a good Valentine's Day outfit is layering. First, think about the date itself to decide how laid-back or dressy you should take your style. Next, tailor it to the holiday with a few romantic finishing touches. Whether that be some strappy heels, a rhinestone-encrusted brooch or a wistful, Parisian scarf, your jewelry, accessories and finishing touches will help give any look a Valentinesey feel, even if your foundational look is all black and gray. However you style it, we wish you a very happy V-Day!