Last Updated on 21st October 2021
As the days get longer and the mercury rises, you may find yourself wanting to explore some new styles. Many people spent last summer cooped up inside and want to revamp their look before they step out into the sunshine. However, if you're on a budget or don't want to replace your wardrobe completely, there are several ways to change up your style. By adding a few boho dresses, styling your hair differently or getting a new bag, you can transform your look. Try out these nine ways to revamp your summer style.
1. Explore Boho
Boho clothing is perfect for the summer. It's flowy, which ensures you don't get too sweaty even in humid climates, and the pastel shades don't store the sun's heat. For a daytime picnic with friends, you can wear sandals paired with one of your flower-print dresses, and then change to wedges and throw on a chunky cardigan for happy hour that evening.
2. Change Your Hair
Having longer hair in the summer can be irritating, especially if you live in a hot climate. If you want a change, consider going for a cute pixie cut or bob. Keep your hair out of your eyes with a cute bandana, headband or just gel.
If you prefer to keep your hair long, you could consider some temporary dye. There are several conditioners in various colors, from natural brown to hot pink, which give you a new look and keep your hair sleek and healthy. Another option is to simply change the part in your hair. This straightforward technique can completely change your appearance and is easy to do.
3. Invest in Summer Makeup
A great way to alter your daily look is by using different types of makeup. Adding some bronzer and highlighter to your cheeks can give you a summer glow in May before you've had a chance to catch some rays. This summer, a popular makeup trend is graphic liner and colorful eye makeup. Although challenging, this look is striking and can elevate any outfit. Pair your pastel boho dress with bright eyes, and you'll have the perfect BBQ outfit.

4. Incorporate Some Hats
With summer comes the sun. Although it's lovely to feel the warm rays on your skin after several months of snow, ice and heavy coats, too much exposure can be dangerous. Many Americans have skin cancer of varying degrees after spending years unprotected in the sun. Besides wearing sunscreen on your face, neck and arms, wearing a hat is essential to protecting yourself from sun damage. It also is an excellent way to revamp your style. Summer hats range from ball caps, which are perfect for going on a run, to big, floppy straw hats, which not only look adorable but protect the back of your neck and your face.
Curate a range of hats in your closets to suit your outfit and the weather. Rain hats are a great way to protect your freshly curled hair from deflating when you're running into the restaurant through the summer thunderstorm, while a beret can give you a more sophisticated look for a cocktail evening.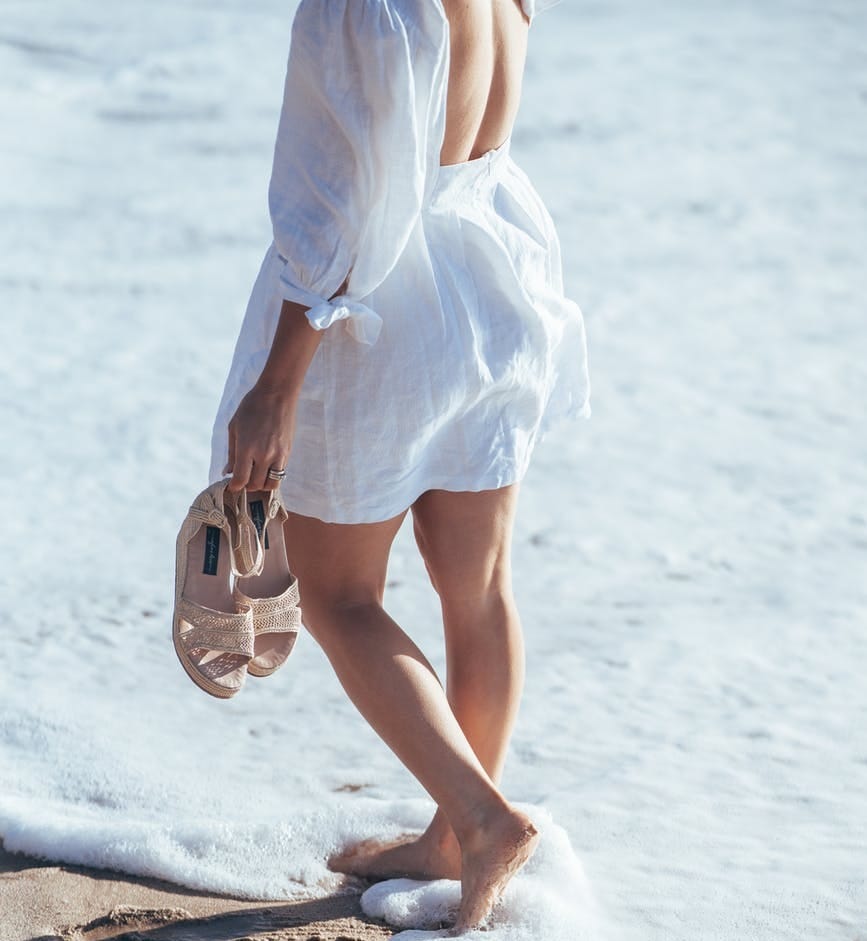 5. Get New Sandals
Sandals are essential for the summer. Having a range to choose from helps keep your wardrobe interesting since the right pair of shoes completely transforms an outfit. This year, there are a few new trending styles. First, for women who live for comfort, invest in a pair of fisherman's sandals. These woven leather sandals stay firmly attached to your feet and provide support for long days working in the garden or strolling along the boardwalk.
Another new trend is kitten heel sandals, which are perfect for those readjusting to wearing heels after a year in slippers and socks. These are fantastic for happy hour and can dress up any outfit, including jeans and a flowy top. If you prefer chunky heels, these can work great while providing a little more support. Last, everyone needs a pair of flip flops. Consider buying leather ones, which will look fantastic with your dresses, shorts and skirts.
6. Wear Chunky Jewelry
Adding jewelry to any outfit changes its entire vibe. If you have an elegant dress, you can dress it down with some chunky, colorful jewelry or dress up a boho dress with a gold or silver pendant. In the summer, having a variety of bracelets is a budget-friendly way of altering your style. You won't need to worry about your bracelets fitting under a bulky jacket, and you can mix and match colors to perfect an outfit.
7. Give Your Outfit Some Flair
It's hard to add pieces to your summer outfit without overheating. Unlike winter and fall styles, you don't want to layer your clothing too much. Instead, try adding a few pieces with volume in the sleeves or the legs. Besides giving you a more dramatic look, the loose fit also makes it easier for you to feel the breeze, cooling you off even on the hottest days.
8. Change Up Your Bags
Summer is the vacation season. Whether you're heading to the beach for the day or out for a drink with friends, you'll want to match your bag to your outfit. A big straw bag is perfect for day trips since you can fit in everything you might need. Look for ones that close with a zipper to protect your items from sand or pickpockets. For happy hour, you can keep your outfit more streamlined with a wristlet bag, which is just big enough to fit your phone, credit cards, and keys. To maintain your summer vibes, choose one with a flower design or in a lighter color.
9. Mix and Match
The cheapest way to revamp your summer style is to mix and match your current wardrobe. Try pairing different metal jewelry pieces together or wear your chunky heeled sandals with more casual dresses. You can also try pairing different textures together. If you have a ribbed tank top, wear it with your long linen shorts. Having the same textures in an outfit works, but mixing them makes it more interesting.
Have Fun Revamping Your Summer Style
Revamping your wardrobe is a fun undertaking, so remember to enjoy the process. Head out to thrift stores with your friends or hit the shops when the sales are on to get the best deals.