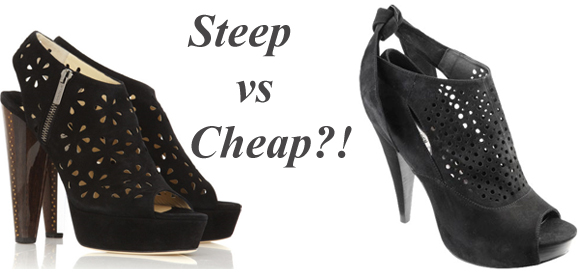 So it's not quite Spring yet, and while we're desperate to start wearing our new season buys , all fresh colours and light fabrics , the practicality of it means we're still in sweaters and snoods.
There is light at the end of the tunnel however, in the form of the perforated shoe boot. Cut-out style shoes were big on the catwalk last season and they're proving popular again this spring.
The shoe-boot continues to prove itself as footwear friend and combined with pretty perforated detailing they're perfect for those occasions when your tootsies want to see a bit of light without being prematurely exposed.
These Jimmy Choo perforated suede shoes are top of our wishlist when it comes to booties and they're sure to make you swoon too, especially with a price tag of £595. With their pretty flower shaped cut-outs and wood and Perspex gold tone studded heels they combine the perfect mix of soft detailing with a hard edge. They're great to wear now with city-chic tailoring and will look just a cute as you start to bring out that spring wardrobe.
For a more affordable choice these Steve Madden perforated shoe boots have been reduced from a massive £150 to just £60 at oli.co.uk, and even better they're almost a perfect match for the Jimmy Choo beauties we wish we could buy.
This post appeared first on MyFashionLife.com