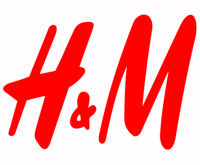 Friday is pay day and the first thing I did was run to the high street to try and spend what little money I had left after bills. Popped in to H&M and expected to find the awkward sized sale leftovers which look and smell as if they came from a dusty old chest. However I was pleasantly suprised.
They still had their fashionable summer clothes which is great as summer isn't over just yet and whats the point of buying full priced tops and skirts when there is only 1 month left of the season to go?
Also their collection for autumn/winter'03 was excellent….found a great black and white sixities dress, a funky 80's inspired t-shirt and a beautiful sequinned detailed vest top.
I'm in love with Hennes + Mauritz…check out a store near you….