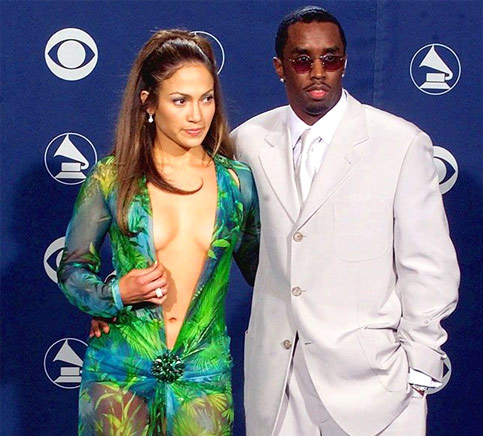 From Sean "Puffy" Combs to Pamela Anderson to Kylie Minogue, celebrities continue to infiltrate the fashion industry using their established status to market their fashion labels. Currently Gwen Stefani of No Doubt (L.A.M.B) and rapper Eve (Fetish) are due to release their own line of clothing.
I am very curious as to what L.A.M.B has in store for us as Gwen Stefani does have an original sense of style and is not afraid to mix and match pieces from grunge to hip hop. However it is extremely likely that her label will be an extension of her style as with many of the other "Designer Celebs"
"Fashion is cyclical. And fashion trends come from music, movies, streetwear, and art" says Denise Seegal, president and CEO of Sweetface Fashion Company, which owns JLo and Lopez's fragrance line. This is very true but Jennifer Lopez and "Puffy" developed their known "sense of style" based on someone else's designs carefully selected by their stylists to project their chosen image. All they have done and continue to do is stick their name to a professional fashion designers imagination resulting in producing a "so called" style of their own.
The likes of Jennifer Lopez did not create the streetwear fashion trends or even carry current trends to another dimension. Labels such as Fubu and Wale Adeyemi helped create the streetwear fashion trend. The clothes you see in music, movies and art are again designed by the professionals. At present all these labels do is appeal to those who wish to emulate the style of their icon. There is lack of originality and aim to attract those from a different genre.
However the question remains are these celebrity fashion labels good or bad for the industry. My initial reaction upon hearing of Gwen Stefani was "not again, how unfair". Unfair to the great unknowns (yes me..which is probably why I'm fairly biased) who are working hard to make a name for themselves in this highly competitive industry. Nevertheless they are creating jobs and providing competition (which is always healthy), gradually designers will have much more choice as to which labels they can work with. Classic example is that of Heather Thomson who jumped ship from the Sean John label to join "Jlo". "Good on her, if you can't beat them, join them and extend your portfolio".
Despite my partiality, praise must be given where it's due and the Sean John label, which has collected $450 million in retail sales is very innovative and was nominated for a prize from the Council of Fashion Designers of America. But again who is to be credited the designer behind the brand name or the brand name itself? Perhaps when a celebrity brings out a clothing line without the help of an existing fashion designer, which diverts away from their day to day style and is based on their imagination, then I believe they should be allowed to stage catwalk shows. Until then keep the designer Celebs clothes on the Celebs!