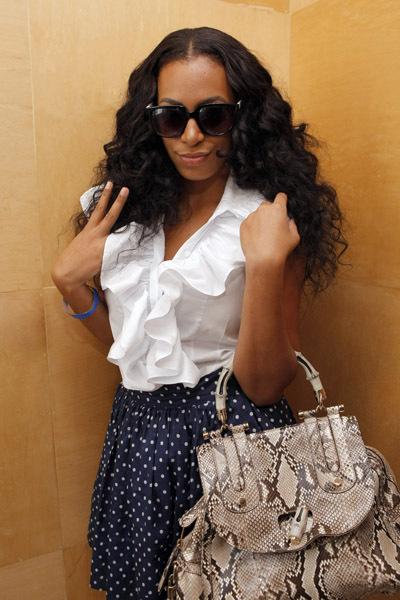 Move over Beyonce, kid sister Solange is set to steal your style spotlight.
I've never really understood the attention devoted to Beyonce's style (lets be honest, Crazy in Love aside, I've never pledged my allegiance to her music either) but there's something about little sis Solange. 
While Beyonce strives for perfection, Solange maintains a refreshingly carefree appearance which is suited not only to her young years but compliments her retro musical sound too.  A riot of prints and textures, Solange's style can at times be baffling but ultimately it's her ramshackle approach that sets her apart from the clone-couture crowd.
As Armani's brand ambassador, Solange has been a stronghold on the Milan Fashion Week scene this week.  She grabbed my attention with this seemingly straightforward monochrome get-up.  A closer inspection revealed the neon pink knuckleduster rings on her fingers and armoury of pearls round her neck – clearly, this girl does not do minimal. 
Solange is all about the accessories and rightly so – following in the footsteps of Gwen Stefani and Rhianna, she takes a blank canvas and makes it her own.
Not many can combine frills and fur and come out of it looking as fabulous as Miss. Knowles.  While most of young Hollywood would pair the ruffle skirted minidress with patent platforms, Solange gives the get-up a much needed boost with her booties.
Obviously a black and white fan, Solange looks great in this Celia Birtwell for Topshop playsuit.  Pictured with another famous little sis, Ashley Simpson is also known for her experimental style.  Could these two prove that age doesn't always bring (style) wisdom?  Only time will tell.