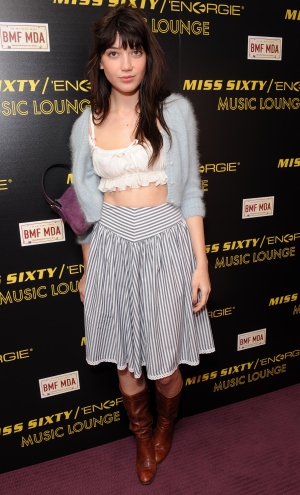 Immersing myself in the return of early 90s trends and celebrating with a few episodes of Saved by the Bell, I slowly began to realise that one of the true fashion horrors of the last millennium has crept upon us once more: the crop top.
Don't get me wrong, I thought Kelly Kapowski looked good too, but that was back then when to be honest, I was too young to really care what my midfriff looked like.
And now? well, I'm intrigued. As much as Daisy Lowe can pull off anything in the fashion stakes, this look (left) does not convert me. The frilly strip of fabric, the fluffy, cardigan, the purple bag and the brown boots… a thumbs down from 2008 me.
What would Kelly do? I ask myself.
Optioning for the less daring crop, I find myself drawn, in this time of fashion dilemma, to the baggier t-shirt top that allows for something to be worn underneath, if needed.
American Apparel's Unisex Tri-Blend Short Sleeved Scrimmage shirt is perfect for those who like me, are unwilling to embrace the tinier versions – and the fit means that you can order a smaller or larger size, depending on how big you would like it.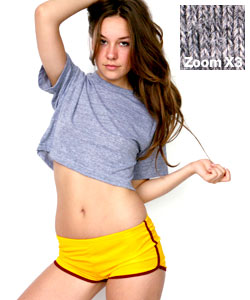 Despite the sporty feel of this t-shirt, it actually looks great teamed with a high-waisted pencil skirt (especially with this season's calf length) and heels. Now I'm just praying they release another colour…
n
{democracy:31}