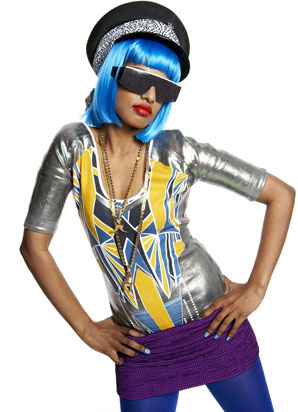 I've only recently had the pleasure of discovering the mesmerising and multi-talented M.I.A; an artist whose uniquely fusioned and inspired musical style is as arresting as her personal style.
The English/Sri Lankan M.I.A is known for her mixture of hip-hop, dance hall, electronica and tribal music and fashion. It comes as no surprise then that the Central Saint Martin's graduate and one-time room mate of Luella Bartley has turned her talented hands to design, with her clothing line Okley Run.
After showcasing her designs in her own short film Real Pirates of the Caribbean starring Okley Leslie, M.I.A launched Okley Run in September 2008 during New York Fashion Week. Selling Mexican, African and Islamic inspired prints and designs at Opening Ceremony and on her own website, a limited line of tees, hoodies, leggings, jackets and leotards are available.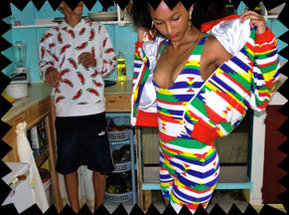 Okley Run bares more than a faint resemblance to American Apparel's separates save the fantastical prints (which include watermelons and ikat-inspired designs). My favourite piece is the 'Mexico Body' (above) – wear M.I.A style with gold high-tops, a vintage bomber jacket, red lips and plenty of attitude, "blaze a blaze!"