Last Updated on 19th October 2013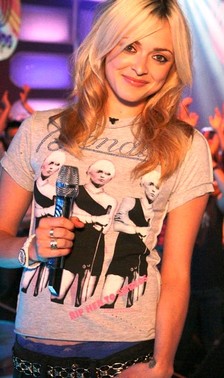 The wardrobe staple of celebs such as, Kelly Osborne, Fearne Cotton, Kate Moss and the rest of London's 'it' crowd; the Rock Tee forms the basis of the 'I haven't even tried but still look unbearably cool' look.
Whether it be The Rolling Stones, The Ramones, Bowie, Blondie or the Beatles adorning the tee shirt, when teamed with the reliable skinnies and a leather jacket this dressed down style delivers every time…..
An easy look to achieve you would think but I'm not going to lie, its way beyond me…my problem: I simply feel like a fraudster. I don't own any Bowie albums which in my mind eliminates my right to have his name emblazoned across my chest, I'll have to stick to my Mighty Mouse graphic tee for the moment and leave the oh-so desirable rock tee to those just that little bit 'cooler.'
Sugarbullets.co.uk offers a great selection of rock tees and you can choose by band/artist, so check your record collection first, any match ups and I say it's allowed! Priced at about £20 they are also a steal.