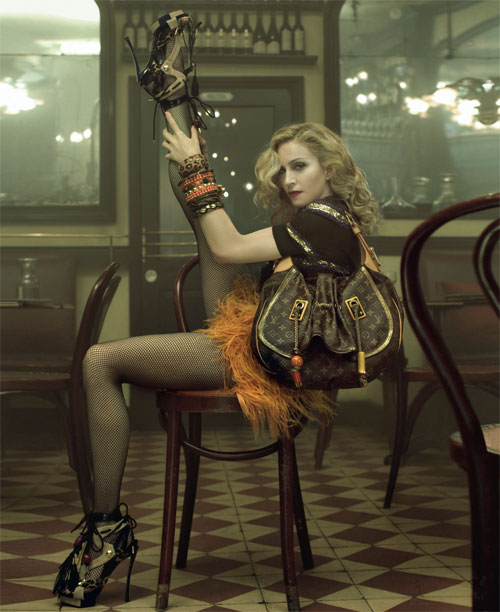 Say what you will about Madonna, but if I'm this flexible at 50 I'll be a very happy bunny indeed! The image above in which Madonna defies all our assumptions about age, and demonstrates the benefits of yoga and working out every day, is from the Louis Vuitton Spring 09 ad campaign.
Yes, the rumours were true! And now we can reveal that the ad was in fact shot by Steven Meisel (not Mert Alas and Marcus Piggott), making this the first time Meisel has worked with Louis Vuitton.
From the sounds of it, there was no competition as to whom would be the face of the SS09 campaign…Marc Jacobs knew only Madge could represent the strong yet sexy spirit oozing from next season's collection.
"I wanted the campaign to be very bold, very sensual and very atmospheric. To carry off all these references and all this sophistication, we needed the ultimate performer , and for me, that is Madonna", says Marc Jacobs.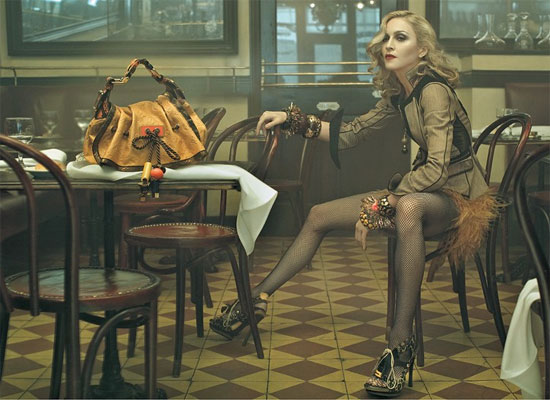 The campaign which features Madonna posing provocatively in fishnet tights (her idea) within a set located in L.A designed to resemble that of a smoky Parisienne cafe rolls out in magazines worldwide next Feb. We already know what we think. It's fierce, yup even fiercer than Sasha Fierce in Luella…now wouldn't that be special!
Images courtesy of Louis Vuitton