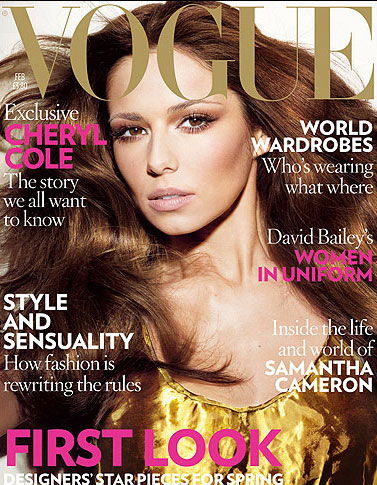 Right now the topic of conversation is what's wrong with Vogue U.S. My question however, is what's wrong with our very own Vogue? British Vogue that is. As revealed a short while ago, Cheryl Cole is the fashion bible's latest cover girl.
For those lucky enough not to be bombarded by everything Cheryl….Mrs Cole is a member of the successful girl group Girls Aloud and a judge on the UK version of X-Factor. She became the nation's sweet heart last year when she decided to "bravely stick with her marriage after her husband (Chelsea and England footballer, Ashley Cole) played away.
Now, I have no problem with Cheryl gracing the cover. Cheryl is a style icon for many (myself not included) which on some level grants her a first class ticket to cover girl status right? My issue is with Vogue's decision to play it safe and opt for the obvious.
The cover is predictable. Big hair and bling. No surprises there. This would have been the perfect opportunity to experiment with Cheryl's W.A.G inspired look and jump fly out of the box into a playground of fashion forward fun. Hey, it didn't hurt Beyonce. Vogue possesses the luxury and authority to take such risks. It's such a shame they didn't.