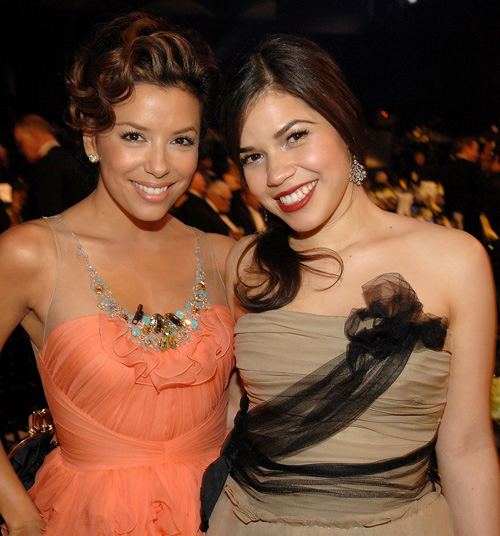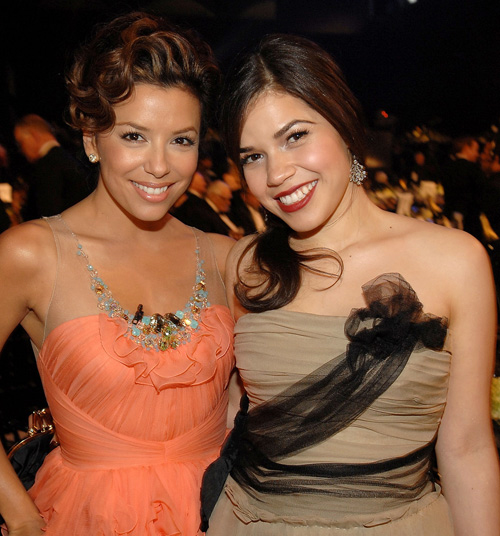 We are now in full red carpet swing and the starlets are in Oscar road test mode. The Screen Actor's Guild Awards is a glamorous affair and a lot is expected of our favourite film stars. So to find out who stole the show and who stylistically fell flat on their face, read on…
The hits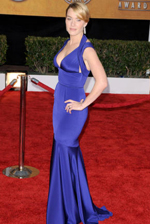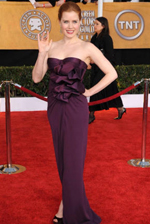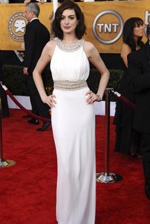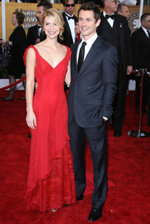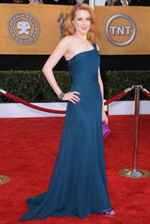 Kate Winslet , With a style and body over haul, Winslet is flaunting her new super bod for all it's worth. Her fishtail Narciso Rodriguez gown compliments Kate's curves whilst the royal blue is a fabulous and show stopping colour.
Amy Adams , The deep purple is offset beautifully against Amy's luscious red locks. Figure hugging, this is classic but the oversized flower detailing keeps it looking fresh and stylish. Yes, in this Giambattista Valli gown Amy looks every inch the Hollywood siren.
Anne Hathaway , Two words: Grecian Goddess. Anne's simple, stylish gown, drapes beautifully and the gold detailing adds to the luxury of this Azzaro creation. White can be hard to pull off, especially on pale skins, but somehow Anne manages it perfectly.
Claire Danes , The host of the SAGs, smouldered in a sultry scarlet.. The red Nina Ricci silk number gives Claire's tiny frame curves and the neckline is sublime.
January Jones , Another Grecian style, but January's Andrew Gn dress shows that black doesn't have to be boring. Like Anne Hathaway the gold detailing just adds to the whole outfit and give black a new lease of life.
Evan Rachel Wood , Glamourpuss, there is no other word to describe this dress. Evan's understated teal dress by Monique Lhuilier continues the one shoulder trend and invokes the spirit of the Hollywood age. It shows that simple can be show stopping.
The misses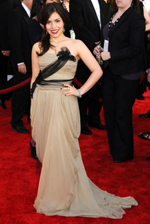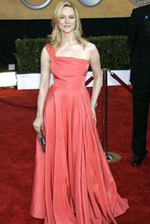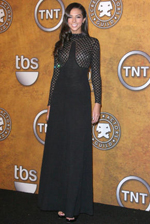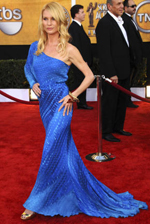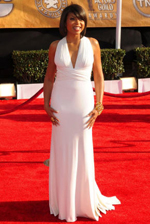 Eva Longoria , No, no and no. When she walked out the door in a tangerine, frilly, chiffon monstrosity did no-one think to tell her to look in the mirror first? An orange disaster zone from Jenny Packham, again NO!
America Ferrera , What is wrong with these beautiful girls? Why would you pick such a hideous dress on your big night? When has mushroom with black organza ever sounded like a good idea?
Laura Linney , Wearing Michael Kors would normally be top marks, but how about a Michael Kors that actually fits? Oh and is actually a colour. I'm not quite sure how to describe this washed out reddy shade of pink. And could someone grab an iron and a bra please?
Teri Seymour , Weird, nothing else, just weird.
Nicolette Sheridan & Terri Hatcher , This housewife should have stayed at home. Nicolette's gown just looks cheap.
Taraji P. Henson , Too tight, too white.
The non-entities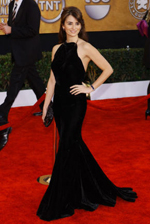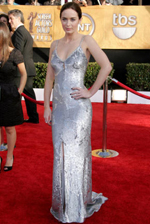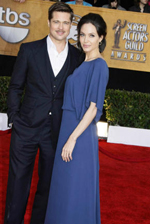 Penelope Cruz , Azzedine Alaia always creates a great line, and this dress is beautifully cut. But yawn, so boring.
Emily Blunt , This girl should be flying the flag for British talent, but instead she's acting as a walking mirror. Head to toe sequins, call Shirley Bassey one of her outfits has escaped.
Angelina Jolie , Max Azria, why would you cover such a beautiful woman in a tent?!