Last Updated on 19th October 2013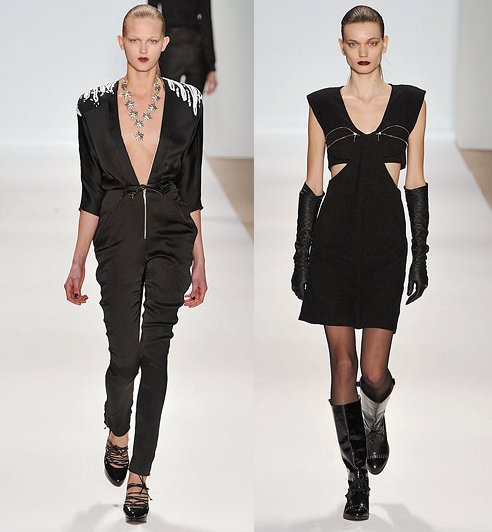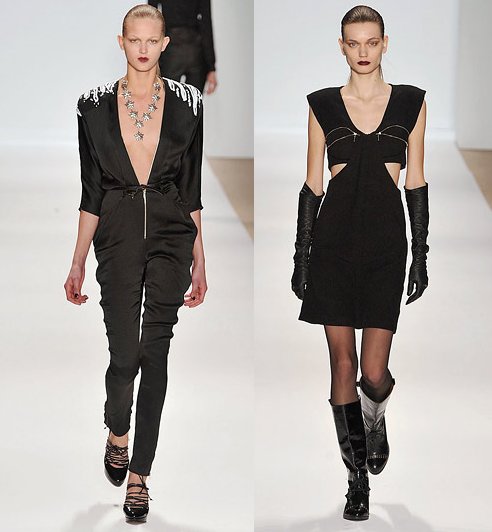 Of course, it was a family affair at Charlotte Ronson. Mum, brother and sister turned up to show their support with Lindsay Lohan in tow who posed for the paps in the DJ booth with Sam. On a side note someone needs to feed Lohan a burger or two.

On to the show. Well I personally loved it. Ronson played with cutting fabrics in unusual places for example sleeves were cut at the elbow, trousers were slit at the knees and shoulders didn't escape the scissor treatment either. She worked zips fabulously into dresses to add detail. I can't say I was a fan of the paisley prints or the odd floral print that made an appearance but I loved the jumpsuits. Ronson makes beautiful jumpsuits. Judging by the tunes I was sure that the collection would have a 1920's feel but it was in-fact like Yigal Azrouel an edgy, rock-chic collection but a lot tougher. Hair was scraped back into a ponytail, lips were dark, knee high boots and long leather gloves accessorized the outfits and in general black dominated the catwalk. On another note black is also rife here at fashion week in N.Y. The uniform of choice? Black skinny jeans, a black top and a black blazer.