Last Updated on 19th October 2013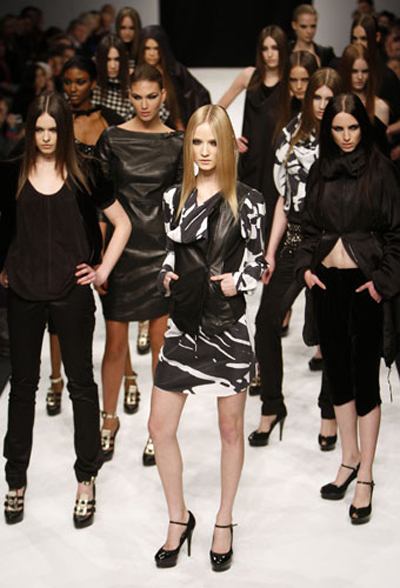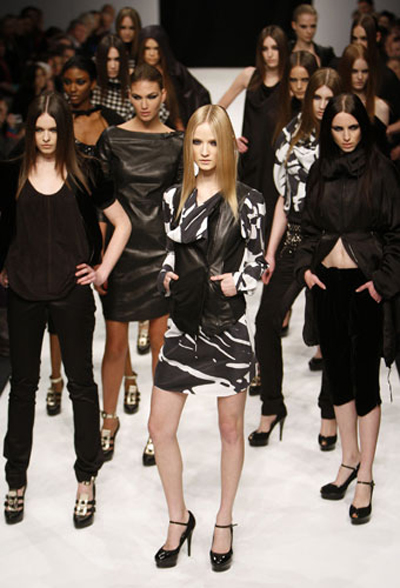 This was ethical fashion's time to say, "hey, look, we can be super slick, super sexy, and super fashionable to. And they did show the world that ethical fashion doesn't have to be all boho hippies and jerseys.
This was a sexy, vampish collection. Lots of black, navy and hints of gold and copious amounts of leather. Yes this was a collection not to be messed with. An array of leather trousers headed down the catwalk, my favourites being a leather/lycra combo with leather at the front and a jodhpur like lycra at the back and a pair of leather harem trousers that should just not work, but they did, they really did.








There was a sportswear-biker influence, nicely draped silks were set against the tough biker style leathers. The majority of leather was seen in the Bllack Noir section of the show, a leather mini dress also was fab. The Noir was a lighter, freer look, although still keeping heavy leather accessories. Duck egg blues brought colour to the show; a mini silk dress with an abstract pattern was wearable and sexy. The antique gold sequined creations were lovely whilst the navy full-length gown with sequin arm detailing was phenomenal.
They weren't cutting edge designs, but I think this was its appeal. It showed the audience, glamour, sex and wearability, which for ethical fashion is the most important thing. It needed to show fashion lovers that sustainable fashion is as cool and chic as the mainstream. And this it did.