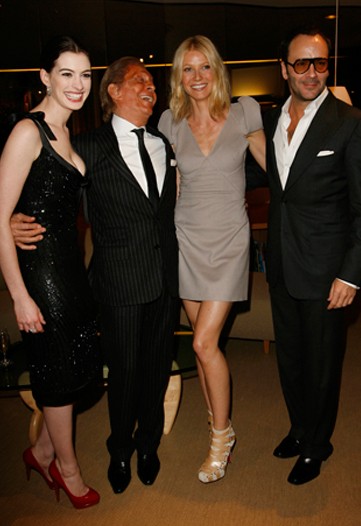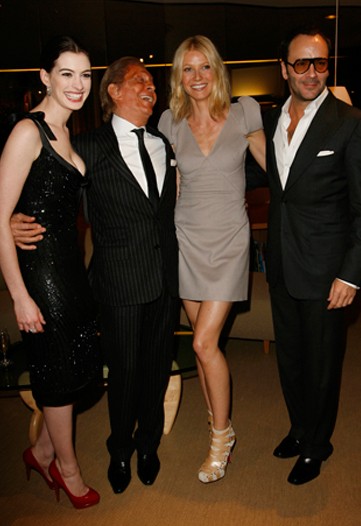 As bright as a star in fact, for the great designer has been awarded the Rodeo Drive Walk of Style Award. Previous Walk of Style recipients include Tom Ford, Giorgio Armani, both Versace's and Manolo Blahnik, so Valentino's in good company.
Joined by Nicky Hilton, Anne Hathaway, Gwyneth Paltrow and Tom Ford, amongst others, the designer was in particularly good company at the ceremony too. It was Hathaway who presented Valentino with his 'Torso' award and in her speech remarked:
"Because of his friendship and influence on me, I am a Valentino creation.
Valentino's acceptance speech was as gracious as any of his designs:
"I am completely drunk with compliments. In my long career, I have more or less refused other people saying nice things about me, but now that I am older, I accept this.
But it's all go, go, go for the retired designer. Only last week was 'Valentino: The Last Emperor' premiered at the Los Angeles County Museum of Art.
Despite much pleading from the fashion world Valentino is sticking to his guns, and is showing no sign of coming out of retirement. Hathaway even begged him to make her Oscar dress but he refused. It looks likes Valentino is just enjoying the quiet life too much:
"I have very beautiful life, thank God, and what I am going to do now is some costumes for the opera.
Ok, so maybe his life isn't that quiet. But wherever Valentino goes and whatever he does a gleam of glamour will always be present!
[Source]