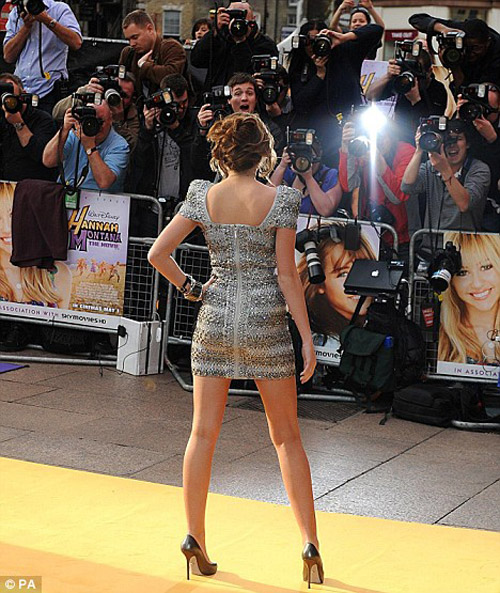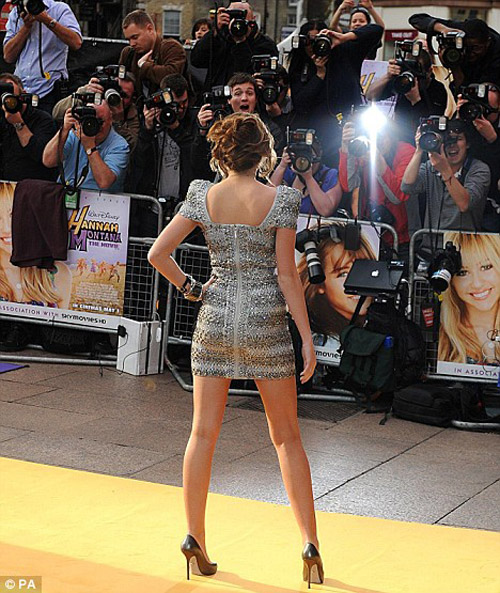 Last night Miley Cyrus made a statement pose in a statement dress. Her point? Well I'm sure it was a long the lines of every 16 year old "Dad, I'm an adult. She certainly looked very grown up in her Herve Leger by Max Azria mini dress.
She was out on the red carpet in London's Leicester Square for the premiere of her film Hannah Montana: The Movie. She was chaperoned by dad, Billy Ray Cyrus and was almost mobbed by screaming fans. Her day had been somewhat quieter with a shopping spree in Topshop.
But back to the dress, it's from the Autumn/Winter 09 collection and she teamed it with vertigo heels by Sergio Rossi. It is a fabulous outfit, there is no denying that. But it is very mature. This is more an ensemble reserved for thirtysomethings, but on a little 16 starlet? I'm not so sure.
It works perfectly as an outfit and suits her, but when you remind yourself she's 16, then it suddenly seems wrong. At 16 you should be experimenting with fashion, you should be in bright colours, fun silhouettes I'm not sure some Leger body con is quite right. From a fashion point of view I love it, from a moral view I am less keen.


This is most evidently seen when you compare Miley to guest Pixie Geldof, Pixie who is two years older looks younger and I can't help but think Miley could take some tips from Pixie's experimental style.
How do you feel about Miley's coming of age look? Is she flying the flag for teens everywhere? Or just leaving them behind?
[Source]