Last Updated on 15th September 2009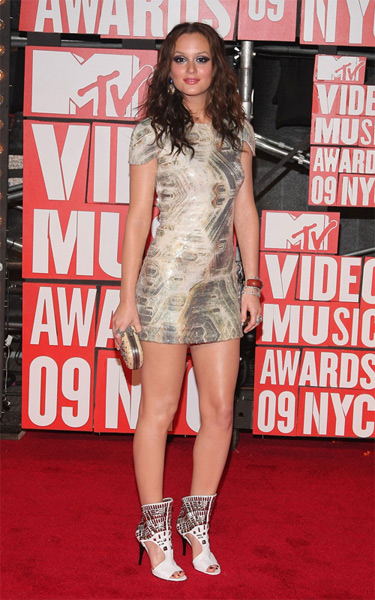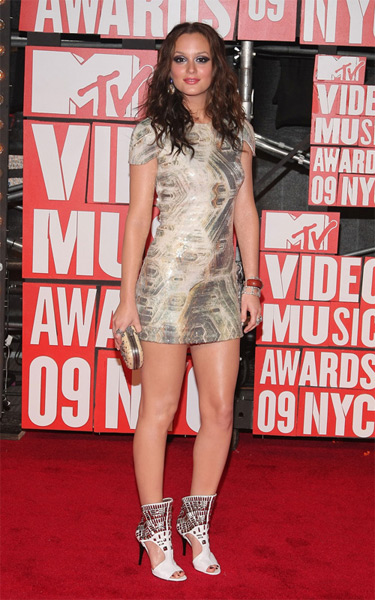 Leighton Meester, like the rest of the Gossip Girl cast, is very fashion forward and loves dressing up in the latest catwalk creations, and last night at the VMA's was no exception! She sported a gorgeous Christain Cota shift dress with petal sleeves that look like a softer approach to the power shoulders that are being worn by every celeb.
The structure and print on the dress is vaguely futuristic, a great print to go with the soft structured shoulders. This edgy look is a very different style to the one we usually see Leighton in when she plays a preppy, polished Blair Waldorf, but Leighton likes to be daring with her own fashion, as we can see here and with previous outfit choices on the red carpet. Her accessories are minimal, including an understated clutch by Bottega Veneta.
Leighton looks great with smouldering eyes and sexy roughed up hair. Everything looks as it should on one of the most anticipated nights of the year. And then I see those shoes/boots/horrors.
The Giuseppe Zanotti footwear looks out of place and forced. This is a prime example of not every fashion trend is right for everybody. It is unfortunate that the shoe/boot covers too much of her ankles, and doesn't complement her toned, lithe legs.
A good leg lengthening heel would have been better here, to show of the beautifully constructed mini-dress that does not need over-the-top statement heels.
Step away from those horrors Leighton, Blair would not be amused.