Last Updated on 19th October 2013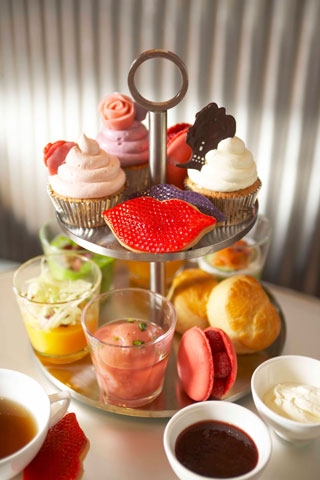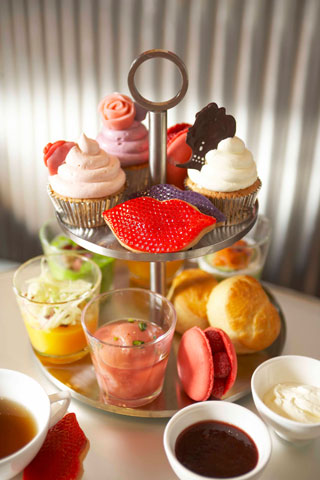 Well, unfortunately Lulu Guinness was unable to attend last minute, but her lovely team put on a delicious spread for a number of us bloggers at the Met Bar in central London on Tuesday.
In celebration of 25 years of Fashion Week and the release of her latest collection, Lulu Guinness invited her favourite bloggers for an evening of mingling, sipping tea and more importantly, eating lots of delicious Lulu-inspired cake. I sat with the very lovely Gemma of Retro chick and Rachel of Fur Coat no Knickers and it was great to be able to put a face to a name – something that doesn't often happen in this little blogging bubble!
Also in attendance were Amna and Satu from Disco Nap, Katie and Joe from What Katie Wore and Kathrin from Fashionista Diary.
An overwhelming amount of tiered servers were placed in front of our hungry eyes as we all cooed over the beautiful (and apparantly low-fat) cakes and biscuits which were decorated with roses, Pollyannas, and of course, Lulu's trademark lips. There was even a chocolate Lulu cameo placed on top of a particularly scrumptious espresso cake; cue snap happy bloggers!
After several cups of tea and an enormous amount of food it was time to trundle (or more likely, roll) to the tube station in the pouring rain, trying to avoid that sugar crash. But not before we were all given a gorgeous goody bag and the leftover cake that we couldn't quite manage in one sitting.
Thanks to everyone at Lulu Guinness for a fab evening. I don't think I'll be needing any more cake for at least a month…