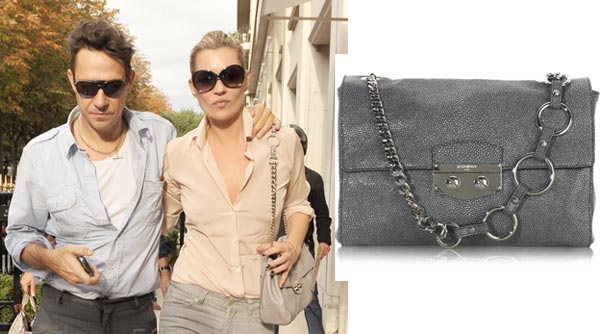 Kate Moss has recently been back to her partying ways and causing scenes at events such as the GQ awards but with the help of the Le Sixieme Yves Saint Laurent handbag she's going from messy Mossy to glossy Mossy.
The small handbag is a great size for a night time affair or a day time look, which Kate is illustrating beautifully, along with her other favourite accessory; her boyfriend Jamie Hince.
The silver thick chain handle goes well with the colour and adds an extra glint and texture to the leather bag. The lovely neutral "stingray grey means that it can go with an array of colours and outfits without garishly standing out, it's typical YSL understated glamour! £1,1145 available at Net-a-Porter.com.
For more "must haves check out our Editor's Picks!