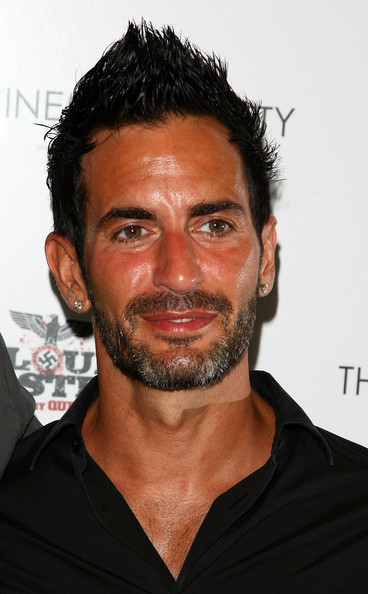 Fashion designers = sports stars? An unlikely comparison as it may be, but as the internet invades fashion Marc Jacobs thinks the industry's become a spectator sport, following a season of live broadcasts and backstage tweets from fashion shows across the internet.
"We're in a period where people are entertained by what they consider to be the real lives of people in different professions, etc. And fashion has also reached this kind of proportion like football or sport, you know , a spectator sport, Marc told WWD.
But the American designer doesn't think this necessarily makes fashion more accessible. "I don't know if it makes the actual product more egalitarian; it demystifies the experience. Any behind-the-scenes look is always telling of the fact that these are all real people doing real jobs and who work really hard, said Marc, who made our week when we saw him feature in Nars' 15th anniversary book baked in the brand's makeup.
As creative director at Louis Vuitton, Marc should know a thing or two about luxury. But now that some collections have, in part, become accessible to the public, he has had to reassess what it means to maintain exclusivity.
"The idea of luxury and exclusivity [now] comes in another form. I think luxury isn't necessarily about exclusivity; it's about the quality of the design and the quality of the make, he said. "One thing that is so different about Vuitton than any of the other retailers, and any of the other luxury brands — Vuitton never goes on sale. That's a huge risk — and I guess an expense — in these challenging economic times, but apparently it's really worked to their advantage, because it's maintained a certain exclusivity.
Do we take it he won't be starring in that reality TV show now, then?