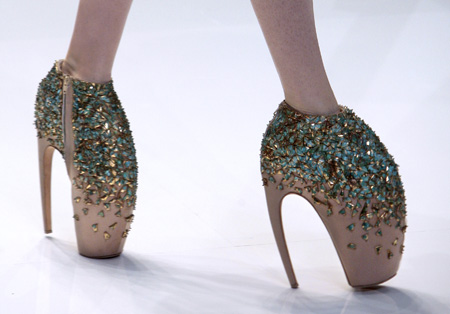 Well what do you know, it seems modelling isn't as easy as some like to think , not when faced with towering 12 inch heels, at least , and model Abbey Lee Kershaw is having none of it.
To be fair to the Australian model, we're not surprised she refused to tempt death in those killer heels, considering her history with runways. After falling last year on the SS09 Rodarte runway because the heels were too dangerous, she then fainted at the Alexander Mcqueen SS10 show because she was squeezed too tightly into a corset, and in February she almost fell at Rodarte again, leaving her with a knee injury which meant sitting the rest of the season out.
So, with history's way of repeating itself, Abbey decided enough was enough when she was confronted with Alexander McQueen's 12 inch alien platforms. And it wasn't only her that decided missing out on a top-spot runway was better than missing out on life altogether; Russian models Sasha Pivovarova and Natasha Poly refused to risk life and limb, too, NY Mag reveal.
Well, Gaga may have proudly propped herself up in them, but we bet she didn't last more than five minutes in those killer clogs.
Ouch.