Last Updated on 19th March 2011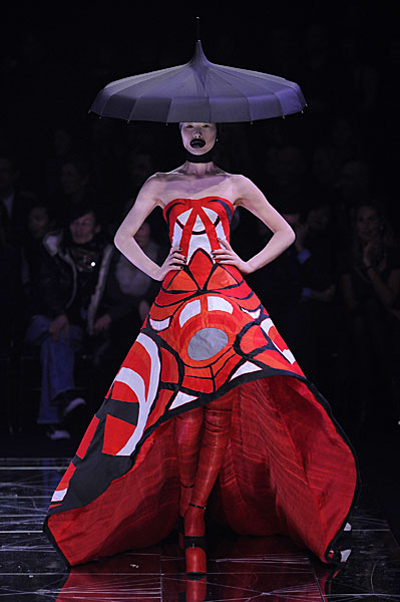 Wow, in perfect contrast to Valentino's dull display, this was a wow show. I never knew it was possible to experience fright and awe at the same time.



If you thought Viktor & Rolf's models were spooky look away now, McQueen had his model's faces painted like deranged clowns. Paled down, with giant oversized lips, some also sported rather bandage like head gear. So this was either a critique of the circus or plastic surgery, or perhaps they are the same thing.
Whatever the underlying inspiration, this was a beautiful, exciting and flamboyant show. The bird prints were just incredible. The couture gowns remind us what a real evening dress should look like. Crazy hats shaped like umbrellas added to the surrealist quality, Dali would be proud.



Circus like prints and tent shaped gowns, OTT dogtooth check, glamorous tweeds, dresses to turn a model into a swan and another, is that crow or an ugly duckling? There was even a bondage element seen best in the leather part of the show that used buckles and straps. There was of course a hair coat, can anyone remember when there was a show without one?!
The bird prints and a floor length black sequin number were my personal favourites. What I loved the most was this sense of extravagance and drama, yet you could wear most, perhaps not all, these outfits. Surely that is the mark of a great designer? To create the unthinkable and make it wearable?



Truly staggering, it'll be interesting to see what the other critics feel about it, I sense that it may divide them. But for me this was a show to remember, and there are many designers who could learn a few lessons from Mr McQueen. But watch the 'It' make up, that's to scary and should never be copied, freaky stuff.
Congratulations McQueen, you've given optimism back to fashion.