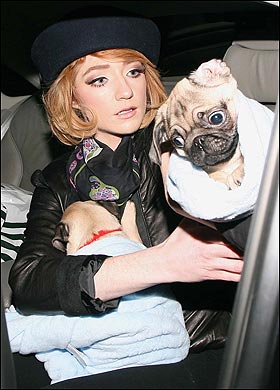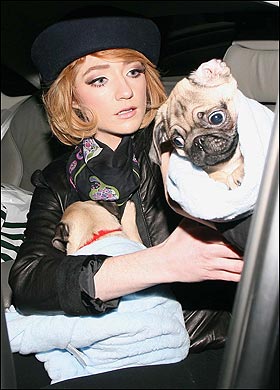 What is that adorable thing draped around Miss Roberts' neck I hear you ask? No, it's not her suspiciously like-its-owner pug dog pet, but rather it's her wonderfully stylish printed scarf from Meg Mathews' collection for Liberty.
Following the success of her iconic wallpaper prints, Matthews has created a range of beautifully printed silk scarves for Liberty. Available in blue, pink and purple, the Russian Doll scarves make use of micro florals and skulls to create a truly rock-chic accessory.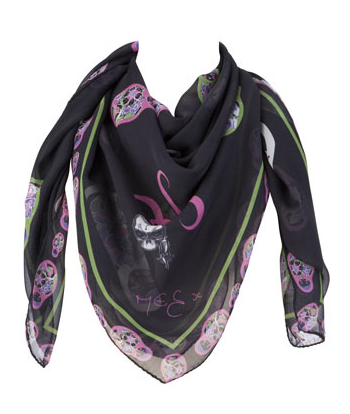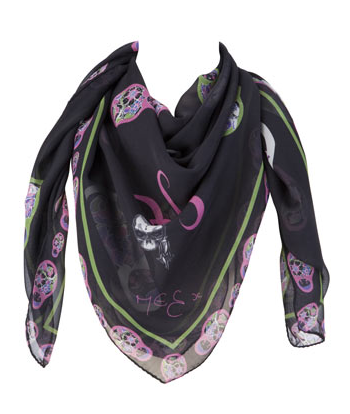 Girls Aloud style maven Nicola shows us her style credentials as she pairs the must-have scarf with a simple beret, sleek hair and a worn-in leather, not forgetting the all-too-cute four legged friends to finish off her look. In the style stakes she may not have the girly polish of band-mate Cheryl, but Nicola's understated yet on-trend approach to fashion further confirms her as the most style-savvy member of the gang.
To re-create Nicloa's off duty look you can get your hands on one of the Meg Matthews scarves from Liberty for £105, simply pair with your trusted leather and a chic beret and you'll be good to go. (Perfect Pooches not included!)