Last Updated on 16th May 2017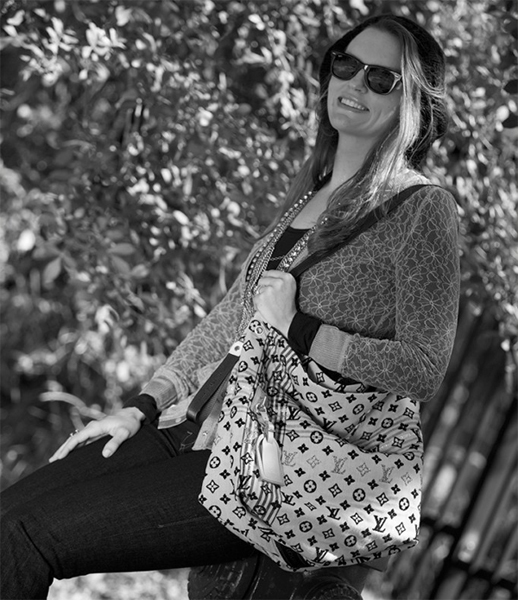 These days it seems like everyone has a fashion blog. Bloggers sit front row at the fashion shows and are feted by publicity hungry designers. So it's sometimes easy to forget that behind the media spotlight are a group of people who are simply inspired to write about something they love.
Handbag obssesed Meaghan Mahoney, the co-founder of the phenomenally successful Purseblog, is one of those.
She was also one of the first. Meaghan founded the blog with technical partner Vladimir Dusil, as a side project way back in February 2005.
Her honest approach to her favourite subject – bags, bags and, yes, more bags – rapidly won the site a host of fans who have become as much part of the site as Meaghan. The Purse Forum is now one of the most useful online fashion resources for sharing information on new releases and forgeries. It is also in the international top 40 busiest forums.
We talked to Meaghan to find out more about what it's like to run one of the busiest fashion sites in the world and what makes a perfect bag…
What is the philosophy behind purseblog?
Our tag line reads "Shallow obsessing strongly encouraged". PurseBlog is a place for handbag lovers and enthusiasts to visit and socialize when they want to learn the latest about the designer handbag world.
Did you ever expect it to become as successful as it has?
No, definitely not. We did not start PurseBlog with the intention of it becoming successful or our full time job. Vlad and I thought it would be a fun project to take on together and hopefully make a little money so we could pay for plane tickets to travel and visit each other (Vlad was living in Germany at the time and I was in Ohio).
Why do you think it has attracted so many loyal readers?
Our readers have grown with us over the five years and I think many of them became so loyal because of how honest we are. All of the readers know I do not have a background in fashion, I simply love bags. Over time we have added more elements to the site that have continued bringing old readers back and attracting new ones, like our own photography. Of course many readers are also part of the PurseForum which has the most loyal member base I have ever seen!
What have been the high points and low points in the purseblog timeline?
To be honest, I can not recall a low point. Every point has been a growing point. One of the high points I remember is having My Yahoo! list us as the blog of the day about 5 months into PurseBlog's start. That really helped us gain some early readers. Also, the first time a designer actually emailed me to say they wanted to work with us had me in shock! I never imagined a designer would contact me and want to work with us. It has been quite an amazing ride.
What inspired you to launch the forum?
As our readership grew and we saw more readers engaging in our posts, we thought it would be a great idea to launch a forum and have a place for handbag lovers to connect. In the 5 years of PurseForum's existence it has surpassed 250,000 members and over 14 Million posts, numbers that I never even dreamed could happen. The forum has grown so much overtime that it is no longer just based on handbags, but encompasses most aspects of the fashion world and daily life.
It's become something of a hot spot for shoppers to warn others about forged goods online and ask for advice on fakes. Did you ever expect it to play a part in battling online forgery?
I personally have never authenticated an item for anyone online. But our forum members have helped thousands of people from buying a counterfeit bag being advertised as an authentic bag. This has become such a strong point of PurseForum, having knowledgeable members of different brands across the world come together to help put a stop to the counterfeiters online.
What are the ingredients for the perfect bag?
It has to be comfortable, wearable, and work for you and your life. Everyone has different needs and wants when it comes to a handbag, so make a choice for you, not a choice that you see every celebrity has made. Check the weight of a bag, if it fits over your shoulder, ease of access, pockets for storage, and if you like the design.
Do you think the IT bag is really a thing of the past?
Mostly yes and a little no. As much as the it bag trend has worn down, we still see some highly trendy bags being fawned after. Take the Alexander Wang Rocco for example; it is a trendy bag with its studded bottom and duffel shape but it really got a lot of people talking and hunting it down! Mostly I think people are aiming to buy classic bags that they can use for more than just one season and that makes perfect sense.
Is there an unknown bag designer we should be watching at the moment?
Not on our radar at the moment. Most of the unknowns that we once loved are now totally known.
What is your favourite bag and what would we find in it today?
I have been wearing my Botkier Venice Hobo non-stop lately because it adds a bright pop of color, has plenty of storage, and is totally cool! You will find lip gloss, my Louis Vuitton wallet, napkins from Starbucks, two pens, a scrap sheet of paper, floss, and my cell phone in it at all times.
Are there any new innovations coming to the blog?
We continue to feature more of our Shutterbag images, which readers love. It is a way for us to showcase bags in an artistic and many times playful manner. Otherwise, we have a few projects up our sleeves that we are working on, but you will have to come back to PurseBlog.com to see