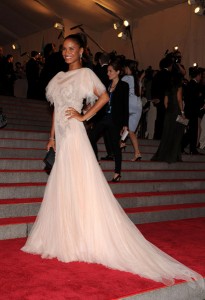 Joy Bryant is one of the many stars to work the trend for nudes at the Costume Institute Gala this weekend, and in this beautiful Marchesa gown she proves she's up there with the best dressed of the night.
The reams of beautiful draping in the skirt and the delicate hand-painted floral detailing on the body give this dress an almost fairy-tale feel without it looking too Disney Princess. With her hair piled high and wowing on-lookers with her regal poise Joy manages to pull off the drama of the dress with aplomb.
The beaded satin half-bow box clutch is divine, but paired with this delicate dress it's a little too much of a contrast. Full marks for the wonderful dress, but a clutch in a lighter colour would have worked much better.