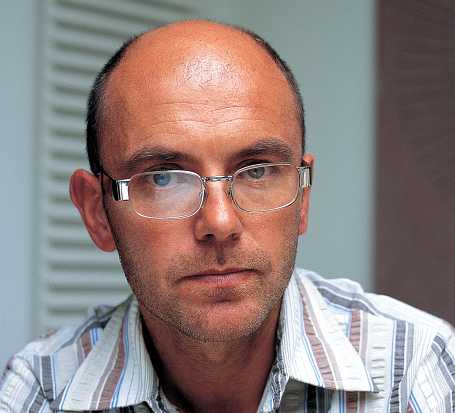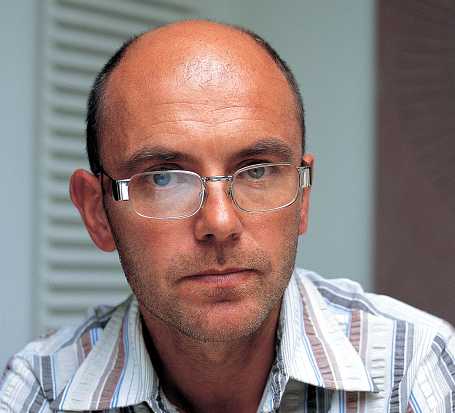 It's been a while since the fashion world last heard from Wayne Hemingway. Red or Dead, the label he started with his wife, Geraldine, was one of the most iconic British fashion lines of the 90s, and although the label is still going, their attentions have been significantly diverted.
Most recently the couple have been collaborating with leading architects on model houses for the Scottish Housing expo in the highlands and revamping the Boscombe seafront by the beach in Bournemouth. Last year they even created a garden for the Chelsea Flower Show.
But this summer the Hemingways are back on the fashion scene once again and making a very loud splash with one of their most ambitious projects yet. Their summer festival, Vintage at Goodwood, which celebrates the best of British music, film, food, art and, most importantly, fashion, launches in a few weeks with a full weekend of what promises to be a vintage fashion lover's wet dream.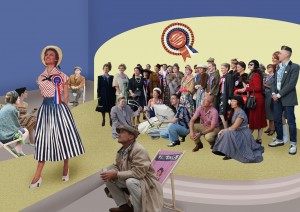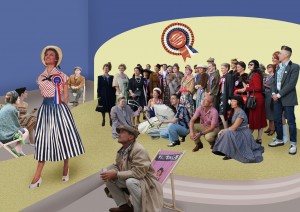 Lily Allen will launch her new vintage clothing business at the festival and Zandra Rhodes, Hardy Amies and Pearl and Dasiy Lowe are all hosting events. They're building a temporary high street filled with glorious shops including Cath Kidston, John Lewis, a Penguin Books library and the world's largest vintage market. And the highly eclectic live music line up is equally exciting.
With the buzz around the festival mounting, Wayne, who says he has never been so busy in his life, kindly spared us five minutes to answer all our questions…
Why did you decide to launch Vintage at Goodwood?
Because it's needed. There's a gap. Everything we have ever done over the years has been a reaction to a product we feel is missing in the market. When we started Red or Dead we felt that there was a gap for an affordable designer label. When we started doing the housing, 10/11 years ago, that was because most mass market housing was rubbish. This is similar. We think there's a lack of a summer festival that brings together fashion, music, art film and design and doesn't just concentrate on the music as its primary focus and really tries to create something that doesn't appeal to 16 year old kids who are out on the lash away from their parents for the first time. Something that was a bit more thoughtful and a lot more glamorous.
And how's it going so far?
Well it's the hardest thing I've ever done in my life in terms of the work that has to go into it. But it's going to be an amazing event. The whole idea is that people treat it like a holiday with a massive cultural hit in three days in a beautiful location. But I think we'll need a long holiday after it!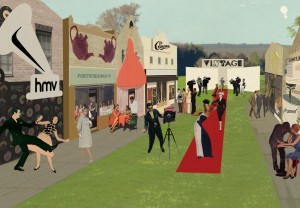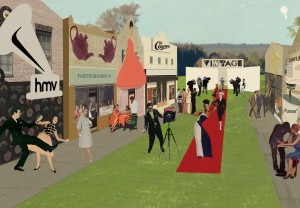 Have you asked other festival organisers for advice?
Yes. They liked the idea and then they all told us how difficult it was and we didn't believe them. We thought we were used to hard work but this is another level.
I love the idea of having a glamorous festival, but what happens if it rains?
It's on chalk, even in the winter you could have walked on it in heels. Anyway, rain in Sussex in August? I've done a rain dance. It's not going to rain. But there are five indoor nightclubs and restaurants on the high street, so there's enough room to fit 10,000 people inside doing stuff. We obviously had to take rain into account. That's one of the most difficult things. Trying to plan for 10,000 people. If we got the kind of rush that is building at the moment, we might get more than that. But I want to get it right. 10,000 people isn't enough to make money, but you expect to lose money in any business in the first year. But it gives it the opportunity for it to be a bit more personal.
Do you think if you didn't have a background in fashion you'd still be able to do this?
Every job that we've done, even in the fashion industry, you've got time to think. But this is like building a small city in a matter of months and my god is it hard. It's brought together a lot of the skills that we've collected during our lives. I started off in a band when I was 18 and then selling second hand clothes at Camden market, so that's where the interest in music and vintage clothes come from, and then all the other design work we've done.
We will always have a go at things that we've never done before. We're not prepared to fail. Not because we're great designers or anything, but because we like to have a go and we know that we're going to give it our all and we're just not afraid. We have no fear. Sometimes I wish we had! This last week, I've been asking why don't we have more fear? But I think that's good. Anybody could do it, it just takes a bit of bravery. And hard work.
The excitement about the festival seems to be coming mostly from women…
Fashion appeals more to women and this is putting fashion on an equal level with music. And also glamour. Most music festivals are all about getting beered up and not bothering if you sweat too much. This is about making something that celebrates the better things in life.
Weekend tickets start from £135 plus camping. Book now or visit www.vintageatgoodwood.com to find out more.