Last Updated on 19th October 2013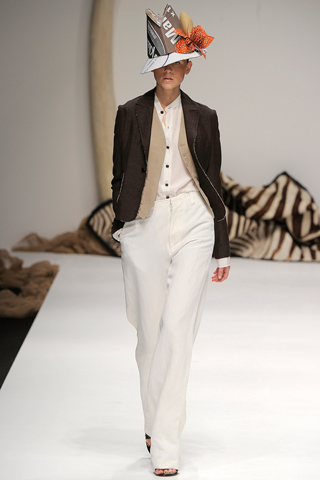 A travel book called 'Travels in the Interior Districts of Africa' inspired Kinder Aggugini's collection. With the animal tusk framed catwalk set up and a soundtrack that screamed Out of Africa. The first model strutted down the catwalk. Following a safari theme the first look out was a double-buckled kilt and white blouse that opened to reveal a thick tribal black neckpiece. It then continued onto Linen trousers and jackets with raw edges and shirt dresses with patch pockets.
As the show went on keeping to the Africa theme the designs reached a more tribal feel with lots of silk draped dresses and bright vibrant prints. With nipped in waists and cowl necklines some dresses had been cut to look as if they had literally been knotted together giving it all a very elegant element.
It then got a bit into evening wear with black dresses containing lots of fringing with hints of animal print here and there. But our favourite was the stunning floaty maxi dresses. With splits in the middle, at the front, showing lots of leg and revealing brightly patterned lining's that clashed beautifully with the original tie-dye print.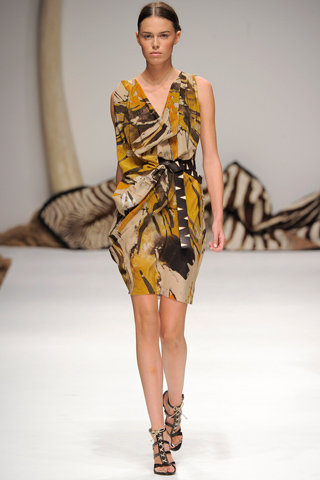 Accessories followed the African theme – including oversized leather hoop earrings, graphic belts, stacked choker necklaces and chunky metal bangles. The eye turning headpieces (made by Stephen Jones) were the highlight of the show. The hats in the show were made from used cardboard boxes and newspaper giving the collection a quirky touch.
To summarise, the great mix of eras and culture made the collection totally chic!