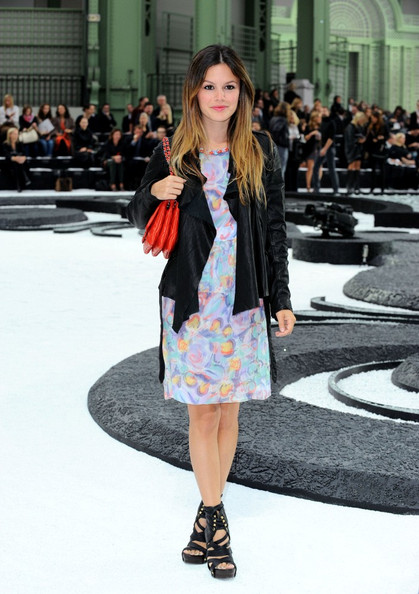 Rachel Bilson arrived at the Chanel show at Paris Fashion Week looking ever the understated LA cool girl with a very vintage yet contemporary look that we couldn't wait to recreate it.
The dainty floral Chanel dress sets a sixties vibe to her outfit, while her leather jacket and gladiator heels toughen up the delicate chiffon to make an eclectic mix of styles. We also love her laid-back tousled hair and natural makeup that keeps her look simple, allowing her red Chanel handbag to provide a touch of stand-out chic.
If you love Rachel's effortlessly elegant look as much as us, take a look below at our top tips for stealing her style…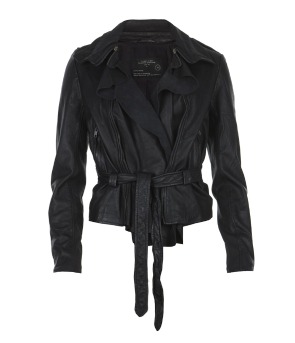 AllSaints Manu Leather Jacket, £325, AllSaints
A leather jacket is a must-have staple for providing an edge to any outfit, and this distressed biker jacket from AllSaints does exactly as intended – ultra-feminine without losing it tough, contemporary edge. Not only does this jacket work well for Rachel, it also has the possibility to become a timeless wardrobe favourite for us, too. We love the unique waterfall lapel detailing on the front that makes it stand out from the remaining leather jackets left on the rails.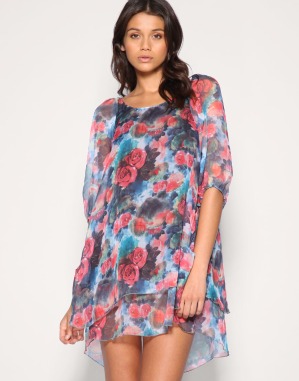 TFNC Rose Print Layered Chiffon Dress, £36, ASOS
Florals add an instantly feminine touch to any outfit and this chiffon dress by TFNC is the perfect piece for re-creating Rachel's look. Though the colour and cut is slightly different to Ms. Bilson's Chanel number, the fabric and floral pattern stays true to the sixties-inspiried design, and is guaranteed to fall effortlessly over our best assets for a flattering finish.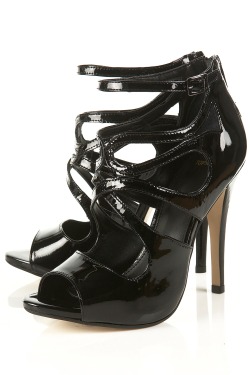 RONNIE Twist Sandals, £75, Topshop
Gladiator-inspired sandals have been a staple for several seasons now, and these RONNIE twist sandals from Topshop take the best features from the signature style. The multi-strap detail up to the ankle bears a strong similarity to Rachel's stunning platforms, while the patent leather promises to toughen up the delicate chiffon dress and combine the two styles together a la Ms. Bilson.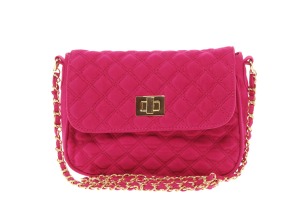 ASOS Quilted Suedette Lock Bag, £16, ASOS
The runways were awash with a sea of red and pink at London Fashion Week last February and have returned for yet another season. Not only does this bag from ASOS share the same quilted design and chain handle as Rachel's classic Chanel bag, it will also match the roses on the chiffon dress perfectly to complete the outfit – plus we love the suedette fabric which adds extra texture to the look.