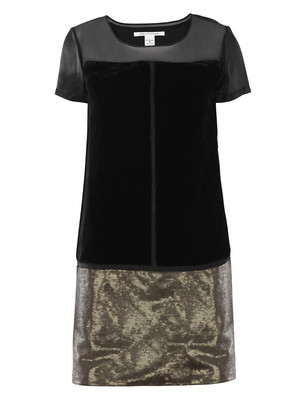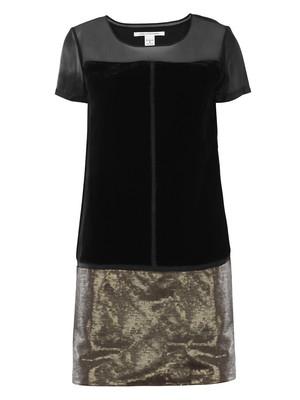 To truly bring a touch of elegance and glamour to your wardrobe this festive season, this sophisticated evening dress by Diane Von Furstenberg is the answer.
This designer dream-piece is a far cry from the usual vibrant patterns DVF is best known and loved for; instead, the top half of the dress features a black velvet body and sheer shoulder panel design, while the lower half shimmers in metallic gold sequins – the perfect party combination for Christmas.
Ensuring you go from bland to glam in one simple shift, DVF's Ethan dress will give you a well-deserved confidence boost for the party season ahead, and teamed with opaque tights and peep-toe stilettos, this piece is guaranteed to see you partying right through to New Year's.
Diane Von Furstenberg Ethan Short Dress, £335, available at Matches. BUY NOW!