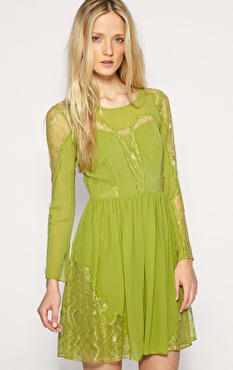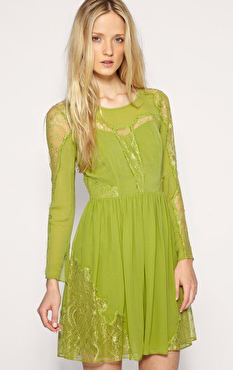 If unconventional styling ticks your Christmas-dressing criteria then look no further, as this Rosalind dress by Whistles is the answer to all your fashionable prayers.
So stylish and unique is this dress, in fact, it's even been seen gracing the likes of the ever-stylish Alexa Chung – impressive, eh?
The scoop neckline on this vibrant long sleeved smock offers a flattering feminine finish while the jagged lace inserts make way for a sought-after statement – and just look at that adorable floating pleated skirt.
Semi-sheer sleeves and stitched-in waist detailing in tow, this ultra-chic olive green number should be a high priority on anyone's party wish-list – it certainly is on ours.
Whistles Rosalind Dress, £295, available at ASOS. BUY NOW!