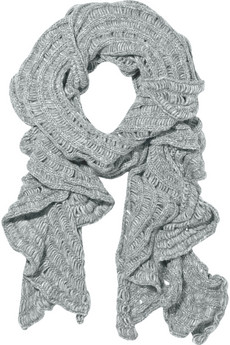 The cold winter chill hasn't left us just yet – as much as it pains us to say – so winter warmers are still a firm must-have for these forthcoming weeks; and a staple stylish scarf is top of our list.
To truly soften up a sharply tailored look, try this effortless Diane Von Furstenburg ruffled wool-blend scarf on for size – mix of simple, sumptuous grey wool and cascading waterfall design make way for the ultimate throw-on piece of feminine neck flare.
Team your new-found accessory with off-duty basics and any city-chic looks this season to break up structured silhouettes – it's well worth the £145 price tag.
Diane Von Furstenburg Ludgate ruffled wool-blend scarf, £145, available at Net-A-Porter.com: BUY NOW!