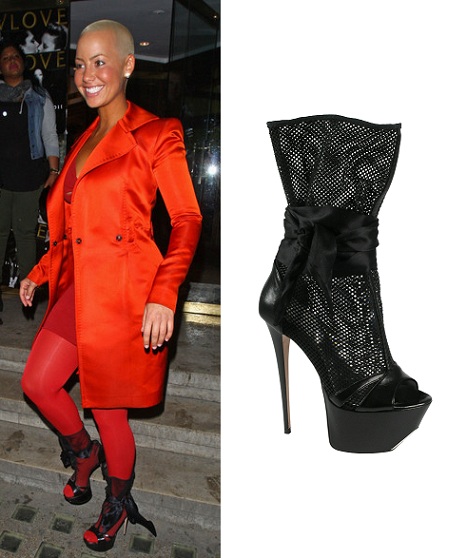 Like Lady Gaga and Nicki Manaj, Amber Rose's outfits are usually put to together to leave us in shock and awe, but it's starting to become a bit predictable. In fact, we'd be far better surprised if she played it safe in jeans and a T-shirt.
During London Fashion Week, Amber Rose rocked up to Love magazine's Alexander Wang party in the above all-red ensemble, complete with Gianmarco Lorenzi boots.
Now mesh footwear's a hot trend, but we think it's best left to small detailing on dainty shoes to avoid going treading the border from tasteful to tacky. The boots probably aren't the worse thing about Amber's outift – a satin tomato coat over a pinky-red dress and tights? Really? – but the mid-calf length of the boots doesn't flatter her legs, and wearing them with red tights definitely defeats the purpose of wearing peep-toes.
But what do you think? Are Amber Rose's boots fierce or just plain scary?
[poll id="37″]