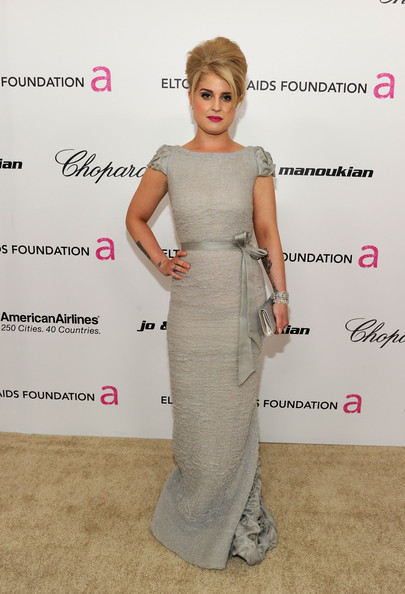 Elton John's post-Oscar party always brings the cream of the fashion crop out to play (except for Katie Price, why on earth was she there?) so even the stars who weren't invited to the ceremony still get to excel in the style stakes. Topping our best dressed list this year? Kelly Osbourne – again.
Although she originally wanted to wear Badgeley Mischka, we think she made the right choice in settling for this grey Tony Ward dress instead.
The cap sleeves and satin sash flattered her flawless hourglass figure whilst the matching accessories finished the outfit off perfectly – and her Sixties bouffant hair and hot pink lipstick made her look like a true Hollywood starlet.
That said, we'd love to take a peek under that floor-skimming hem to catch a look at her feet – we bet she's got some killer shoes under there.
All in all, it's another great look from Ms. Osbourne for us, but do you like her lady-like look? Let us know your thoughts below.
[poll id="45″]